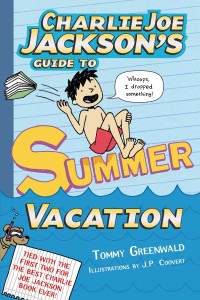 No disclosure here, because guess what, folks? I bought this book! It's actually the first book I ever preordered on my Kindle, so I had it the day it arrived (the Kindle price is still super-low). This summer the kids and I each read it, since we are all fans of Charlie Joe Jackson. This review might be a little sketchy, since I read it over 2 months ago, but we enjoyed it so much that I've been meaning to write up a review.
Charlie Joe Jackson's Guide to Summer Vacation was a little different from Charlie Joe Jackson's Guide to Not Reading and Charlie Joe Jackson's Guide to Extra Credit. It read more like a traditional novel, whereas the first two were built more on his list/guide. I loved those books, finding them full of humor and heart, but I thought this one was even stronger.
Maybe it's because he's coming over to the dark side — could he actually be liking learning and has he found a book he can't put down? Or maybe it was because he got to be the hero and save the day, but I love this sort of a ne'er-do-well even more after reading this book.
Enough random gushing —
Charlie Joe Jackson's Guide to Summer Vacation begins where Charlie Joe Jackson's Guide to Extra Credit leaves off. His parents' and counselor's wish/threat that he attend Camp Rituhbukkee (pronounced "read-a-bookie", the best name ever!) for three weeks comes to fruition. It's not all bad, because several of his good friends are there, and there are some others who he enjoys getting to know.
And for the first time ever, he's seen as a jock, leading the team against the annual basketball game against Camp Wockajocka (another great name!). He inspires his campmates to bring out their inner jock, but he also uses his brains to outsmart them.
There's a little middle-school romance (which means a lot of "liking" of each other), and an increase in self-awareness — breaking beyond their stereotypes be it Charlie Joe Jackson's cut-up who just does what it takes to get by, or the kids who are known only for their brains.
This story had all the elements I love — some suspense, kid-power, growth, heart, and humor. You don't necessarily have to be familiar with the first two books since it's a new setting and so many new characters are introduced, but I'd recommend the whole series.