There aren't as many audiobooks available as last year, but I've found a few. I'm a fan of the audiobook in general, but especially when I'm trying to squeeze in more reading time, I appreciate the flexibility that audio offers me to "read" while I'm doing laundry or cleaning out closets or shuttling my children around.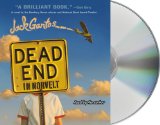 Dead End in Norvelt by Jack Gantos is a quirky coming-of-age tale, sort of (Do guys really come of age in fiction? Not nearly as much as girls). It's been described as a sort of memoir/fiction hybrid of Jack's 14ish summer in Norvelt, Pennsylvania in the 1960's. Jack ends up getting grounded because of his parents' different instructions to him ("Mow down the corn so that I can build a runway or bomb shelter," "Don't you dare mow down my corn."), and so he spends a lot of time with founding townswoman Miss Volker. There's blood (mostly in the form of his nerve-activated nosebleeds), death (as the other founding members are dying off), romance (unrequited senior citizen love), and even Hell's angels.
Just writing that out, I totally get the fiction/memoir hybrid. I imagine Jack Gantos knew a lot of characters, but they're all pumped up. That said, even though it's quirkily larger than life, it also sort of feels normal, or at least fun.
AUDIO NOTES: This audiobook is read by the author Jack Gantos. Listening to him — both his voice and the crazy tales he tells — reminds me a bit of David Sedaris. Fans of his work will likely enjoy this as well. The attitude is the same, too. He doesn't judge, he just tells it as he sees it. The dialogue and the first person reflections make audio an ideal way to experience it.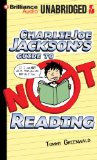 Charlie Joe Jackson's Guide to Not Reading by Tommy Greenwald is a fantastic book. At first, I thought that he might fit under the "dudes with 'tudes" category, but even though he doesn't like reading and will do anything (including lie, cheat and steal) to avoid reading for school, Charlie Joe is quite likable, and this book transcends the "boys who don't like to read" genre. Charlie Joe even references this stereotype in the book, saying that he isn't like the others who are going to pick up a book and realize how wrong he's been because now he suddenly likes to read. But the irony is that if you are a bookworm, you get all the jokes and know exactly where he's coming from.
Charlie Joe and his whole cast of supporting characters are completely charming and include a completely normal loving functional family (!!), teachers who are portrayed mostly as good guys, strong guy friendships that I rarely see in novels, and age-appropriate school crushes.
My words haven't done it justice, but I'd highly recommend it to ages 10 and up. My 8th grade daughter — who does love to read — loved this one. There are no real "mature" topics here, but one might need a little discernment to recognize that cheating is not a laughing matter (and this is reinforced when Charlie Joe is caught). In addition, there is some middle-school romance which younger kids, boys especially, might not appreciate.
AUDIO NOTES: I would have loved this book in print or audio, but I really enjoyed MacLeod Andrews' reading of this story. He was neither over the top nor boring, but provided just the perfect inflection to Charlie Joe's narration, in addition giving individuality to each character.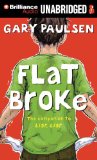 Flat Broke: The Theory, Practice and Destructive Properties of Greed by Gary Paulsen features the same "dude with a 'tude" that was in Liar, Liar. In fact, the story continues, since Kevin has lost his allowance as a consequence of his lies. It's billed as a "companion to" and honestly with them both being well under 150 pages, I honestly think that these two books could have been combined into one book. I liked this book better than the first one, but I didn't love either of them. However, I think that they are each books that you could put into the hands of a middle school boy who doesn't like reading, and you might get him to read without complaining. I know that the very short length was by design and works in the favor of it not seeing "too hard," though I still find it odd that a book that is really most appropriate for ages 11 and up is so very short.
Some of his money-making schemes involve gambling, but others are more altruistic and do sort of end up helping others. I don't hate Kevin and wouldn't hesitate to put these books in a reader's hands — the stories and characters just didn't do much for me.
AUDIO NOTES: The narration from Joshua Swanson was even. He neither added anything spectacular to the story, nor detracted in any way. Audio books are a wonderful way to get more books into the heads of reluctant readers, so you might consider the audio versions if you have a kid in mind who might enjoy these books.

One Day and One Amazing Morning on Orange Street by Joanne Rocklin is an old-fashioned sort of story. It's set in the present, but it's the kind of story that any of us could have curled up with on our shag carpets in the 70's. The nosy neighbor who keeps track of all the activities on Orange Street chronicles what goes on during this day and a night on Orange Street. Most of the action centers around a mysterious man who is hanging around the lone orange tree on the street. Only Ms. Snoops (aptly named, huh?) remembers when the whole street was filled with trees. The children come together to try to save the tree, and in the process learn about themselves as they learn to appreciate their elders and history.
More mature issues such as memory loss in old age, friendship, and disability are touched upon, but it's in an age appropriate way.
AUDIO NOTES: Lisa Baney's narration is also quiet and simple, reminding me of a skilled librarian or teacher who delights in sharing a story with children.
Though I am a Round I panelist in this Middle Grade fiction category for the Cybils, my opinions are solely my own and are not meant to reflect the final outcome.
Don't miss a thing: Check out our current giveaways. Subscribe to our feed or video reviews on YouTube. Follow us @5M4B on Twitter or on Facebook.

Though it's a challenge, Jennifer Donovan can't imagine one more fun than reading as many of the nominees as she can in this 2 1/2 month timeframe. That's one reason she doesn't blog at Snapshot so much anymore.