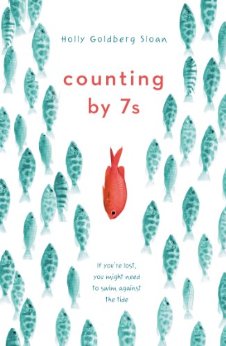 When you read a brief description about a book which essentially labels the 12-year-old protagonist Willow as a genius misfit and an orphan (twice over), one has to assume that it's a sad, sad book.
But that's not how I'd describe Counting by 7s. It's a quirky, uplifting, heartwarming book that is — yes — about misfits (several more enter the cast of characters) and loneliness and loss, but also about taking chances, healing, starting over, and learning to connect.
When Willow's parents are both killed in an accident, her life becomes entangled with her school guidance counselor Dell Duke, an underachieving sad person himself, and the Nguyen family. She only met Mai and Quang-Ha a few weeks before when she was early for her session and Quang-Ha was late in his, but she felt a connection with the slightly-older Mai, who began to take charge of them all, even Dell Duke. Since they are with her when she is notified of the news, they sort of claim squatter's rights to her.
I laughed out loud several times at Sloan's observations about human nature, whether they were conveyed through Willow's POV or Quang-Ha's or Dell's. My heart also warmed at the kindness and care.
Is it super-realistic? Maybe not. The portrayal of Willow's grief might be a bit off, but honestly I think it was pretty right on. The other elements, such as the way the foster system takes care of Willow might not be so realistic, but that is one of the things I love about middle grade fiction. People seem to hold books like this that tackle "issues" to a higher standard of realism, but I think that the slightly less realistic and more "fairy tale" approach is what make me love books (and movies) that deal with heavier topics.
Adults have taken to reading middle grade and young adult books about wizards and vampires and teenagers put in an arena to fight to the death. I wish that more adults would read books such as this one. I loved it. And that's why I'm making this another 5-Star Read.