This is my second year as a Cybils Middle Grade Fiction round I panelist (this category is for realistic fiction, aimed at ages 8 – 12, or the "middle grades" of 3 – 6ish). That means that I am supposed to read as many as possible of the nominated books (We are over 100 and counting!), and then along with the panel, put forth a shortlist of 5 – 7 titles to the Round II judges.
After last year, I resolved to be more diligent from the get-go with reading. I've tackled the list of nominees, striving to read at least one book per day, and so I've already read 8 or 10 books, and the nominations haven't even closed yet. That's good, but there are still so many to be read.
The other thing that I resolved to do was to be better about posting reviews. With my first attempt at getting some reviews out there, I've decided to feature some titles that are either about or will appeal to middle schoolers, even though there are several in my library bookbag that I know would also fit here. Last year, my 7th grader Amanda was reading many of the titles with me, and I was surprised at how many of the books solidly appealed to her as a 12-year-old at the top of the range. However, most kids also like to "read up," so barring any content that's too mature, they are equally appropriate for 10-year-olds. This particular list has a mix of humor, history, adventure, and heart, featuring 11 and 12 year old characters.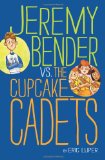 Jeremy Bender vs. the Cupcake Cadets by Eric Luper is a classic boys versus girls story. Actually, he's not really against the Cupcake Cadets — he's decided to become one! When 11-year-old Jeremy and his best friend Slater do some damage to his dad's boat, they need to figure out how to come up with some cash. Winning the Windjammer Whirl would net them $500, but it's only open to Cupcake Cadets. Armed with Jeremy's sister's old uniforms and her wig, the boys decide to pose and to win.
I loved the observations that Jeremy and Slater make about girls they learn as they are trying to fit in with them, and the inevitable lesson that boys are not necessarily better than girls is not given in a way that isn't too much of a "the moral of the story is. . . . " I recommend this funny novel for kids who like humor and the boy/girl angle will appeal to 4th graders who still think the opposite sex is gross, as well as the 6th grader who might be more interested in figuring out what makes the other half tick.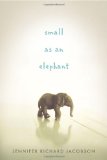 Small as an Elephant by Jennifer Richard Jacobson is a suspenseful, adventurous story that also gives a peek into the inner life of an 11-year-old boy. Jack hasn't had it easy. The reader doesn't hear details, but we glean that his mother is a manic depressive. She doesn't like to take her meds, so she sometimes "spins." During these times, Jack is basically left to fend for himself, surviving off of canned foods. Other times when she's "up," she pulls him of school for incredible adventures.
Right before school starts, Jack and his mom take a camping trip. Jack wakes up the first morning, alone. His mother's car is gone, and she's not answering her cell phone. He lays low, assuming she'll come back, but when she doesn't, he decides that he needs to find her. This takes him on an adventure — walking, biking, and riding the bus. He's resourceful, turning in cans for the deposit so he can buy some food, and finding unique places to sleep such as a store and a barn loft. When he finds out that the authorities are looking for him, he has to be even more careful.
He was hungry, tired, and worried. Why wouldn't he just turn himself in? He knew what would happen to his mom, that's why. He didn't want her to get in trouble for neglect (even though he knows leaving him was wrong), and he didn't want to be taken away from her. As adults, our hearts break for a kid like this, but kids tend to take things at face value. As hard as it is to believe, this is more a story of adventure and survival than it is a heartbreaking tale of abandon. That makes it completely age-appropriate for any tween readers. I'm adding this one to our 5 Star Reads list for a fast-paced, yet insightful story that will appeal to the target age range that I couldn't put down.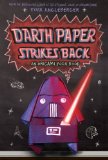 Darth Paper Strikes Back: An Origami Yoda Book by Tom Angleberger is a follow up to the title that won the Cybils award last year, The Strange Case of Origami Yoda (linked to my review). I loved the heart and humor in that book, a typical school story about boy/girl issues, bullies, homework, fitting in, and everything you'd expect 6th graders to worry about. This new book picks up the next year. Harvey, Dwight's nemesis, has taken his mistrust of Origami Yoda a step further, and made his own Darth Paper in an attempt to take Dwight and Origami Yoda down! I like how the kids at the middle school continue to stick up for Dwight, even though he's odd and some of his actions are hard to understand.
Having been totally wowed by the first book, it takes something special to maintain that level of joy with a book. I still enjoyed this one, but not as much. I think that some people — such as avid Star Wars fans — will enjoy this one more, since the references are even heavier here. That said, this was an enjoyable read — not quite as humorous or filled with heart as the first one — but worth reading. I also know that I'd quickly pick up and recommend any other books by this author, whether in this series or not. He gets kids.
**While I am a Cybils panelist, these thoughts are my own and not meant to reflect the opinions of other panelists or the outcome. Cybils nominations are still open through October 15.
Jennifer reads and writes (these days it's mostly about what she reads) at her home in a Houston suburb. She blogs at Snapshot.