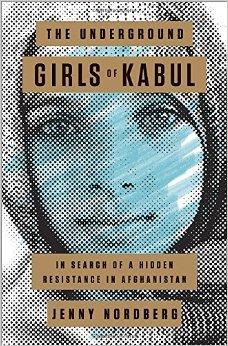 "In Afghanistan, a culture ruled almost entirely by men, the birth of a son is cause for celebration and the arrival of a daughter is often mourned as misfortune. A bacha posh (literally translated from Dari as "dressed up like a boy") is a third kind of child – a girl temporarily raised as a boy and presented as such to the outside world. Jenny Nordberg, the reporter who broke the story of this phenomenon for the New York Times, constructs a powerful and moving account of those secretly living on the other side of a deeply segregated society where women have almost no rights and little freedom."

Sure, I know it's a little like cheating to start a review with the publisher's blurb, but this one gets right to the point, allowing me to go straight to sharing my reactions from reading this affecting nonfiction book, The Underground Girls of Kabul by Jenny Nordberg. In short, I'm telling everyone I know to read this book. Immediately.
Nordberg's reporting presents the stories of several individuals with experience with the concept of bacha posh, personally and as mothers, and the manner in which they share their stories is incredibly intimate and brave. These women were born into a society that awards practically zero value to females, beyond their capabilities of bearing children in the future, which will hopefully be predominantly male. The practice of raising a female child as a male, usually only through the time just before the onset of puberty, is quietly accepted in a "don't ask, don't tell" sort of way in many areas of Afghanistan, and the benefits to the family unit are numerous. But what about the effect on the individual? In a culture that doesn't place much worth on the concept of the individual, this is a very Western-focused question, and much of the Nordberg's investigation tries to unveil answers to this question.
If I could assign an infinite amount of stars to this book, I would. It was fascinating, heart-wrenching, and wholly captivating. From my Western perspective, I can feel frustrated by the inequalities present in our American culture between females and males, but I seriously have no idea what it is like to be completely oppressed. The differences growing up female and male in Afghanistan are so vast that there's really no point in even comparing the two experiences. There is nothing in common between the two. From the moment the girls take their first breath, they are sent the message that they are not fully human, not worthy of the full life's experience– past childhood, often not even being allowed to leave the house– simply because they are female. How is it surprising that young girls would be willing to, even just temporarily, make the shift to living as young boys?
For those interested in exploring gender issues, this book is a must read, but really, it is a must read for anyone simply because these girls' and women's stories deserve to be heard. This book enthralled me, and saddened me, often making me wonder about the future welfare of the individuals to whom I was introduced. Though I cannot do anything to help these women, I think of them often, hoping that they are having at least a moment of peace.
*************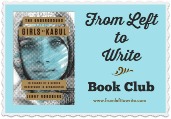 The online book club, From Left to Write, is featuring The Underground Girls of Kabul this month, and a collection of bloggers' posts inspired by the reading of this book offers a wide variety of musings focused on gender. My own post, it might be simply pink vs. blue here, but it means so much more elsewhere, centers around my feelings during my first pregnancy when I longed to know the gender of my unborn child. Thanks to the publisher for providing a copy of this book to assist in my participation in the book club.