From Jennifer: I am so happy to announce our newest team member here at 5 Minutes for Books. Dawn has written a few guest reviews for us, and since I was looking for someone other than me to review popular fiction (because the survey indicated that you wanted more fiction reviews, and I hope you've noticed the change). Find out more about her — and the rest of us — at Who Are We?.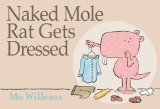 I feel obligated to be completely honest, right from the start of this review, by stating that I love Mo Willems' books. L-O-V-E them. I have my favorites, of course, but all in all, I haven't come across a book by Mo that I haven't enjoyed reading aloud. (And yes, in my imagination, we're on a first name basis- that's the level of my fandom.) Mo has an incredible knack at creating absurd little characters, such as a pigeon who wishes to drive a bus, a dinosaur who doesn't realize that she should be extinct, and an adorable little monster whose only wish is to scare the tuna salad out of someone. I get the sense that this guy truly understands the preschool set. Maybe it's my history of teaching preschool, but so many of these characters leap off the page at me as absolutely spot-on for the four year olds that I have known in my time. What I like best is what my son coined the 'freak out' page that is pretty common among his titles– again, what says preschooler better than a good old freak out?
So, when I learned that he would be releasing a new picture book, Naked Mole Rat Gets Dressed
, I knew that I would have to own it immediately. This new offering does not disappoint. He chose for his characters, what could arguably be the funniest named creatures one can find in the small mammal house at the zoo. Clearly, his trademark humor shines through, and I have found that this humor reaches across all ages, making for a book that children like to hear and adults don't mind reading again and again.
I can wholeheartedly recommend checking out this latest book by one of my entire family's favorite children's authors, and if you're interested, feel free to check out a personal funny story involving our recent visit to Mo Willems on his book tour.
No surprise here: this picture book has a very special place on our list of 5 Star Reads.
Dawn is most likely holding a book in her hands this very moment. She can be found blogging away at my thoughts exactly.