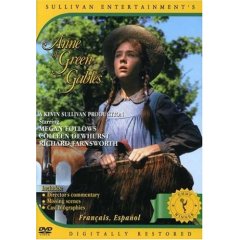 I have recently come to an awful realization. That is? That there are people out there, living amongst us in society who look just like you and me – and yet they are different somehow. How different? Well, they haven't read Anne of Green Gables. Some of them haven't even seen the movie. Even my dear, dear, dear, dear, DEAR managing editor – Jennifer Donovan herself – has only recently rectified the situation. (I threatened that I'd quit writing for 5 Minutes for Books if she didn't! HA! Don't you believe it. But still. I was tempted. I'm glad she gave in so easily.)
It was with some hesitation that I agreed to marry my husband, knowing that he had never read it. I mean, you'd think love would compel him to at least watch the movie. But did he? No. Not until recently when I threatened to divorce him (Don't you believe that either. But still. He really needed to compromise somewhere for the sake of our relationship.)
Now, if you haven't read this CLASSIC work that EVERYONE (should) have read, then please don't admit it. At least, don't admit it without promising to fix this great big problem in your life. We need to take care of this. First things first, priorities, priorities, Anne of Green Gables, The End! Amen? Amen!
Just so you know, watching the movie doesn't count. However, I am willing to accept this as a first step. Why? Because it's a good movie and I can't believe any of you might not have already watched it. It's almost as classic as the book themselves (only not quite). The movie version of Anne of Green Gables
follows the book series by Lucy Maud Montgomery very well, actually. The first movie in the movie trilogy is named after the first book but combines bits and pieces of Anne's life from Anne of Green Gables
(book one) through Anne of Avonlea
(book two). Produced by Kevin Sullivan, this movie is tastefully done. It holds to the spirit of Montgomery in creating a lovable red-headed orphan girl who always means the best but falls into the worst scrapes.
The story is clean. It is full of imagination and the dreams of a young girl who is constantly put down by society on account of her being an orphan. However, once she is taken in and loved by an older sibling couple (Matthew and Marilla Cuthbert) Anne is allowed to shine and pursue her dreams unhindered by her prior station in life. There is a romantic interest in Gilbert Blythe, the meddlesome fierce but fair Rachel Lynde, a bosom friend in Diana Berry, the magic that is Prince Edward Island and and enthusiasm for life throughout the story. (An enthusiasm that the author herself did not share, unfortunately.)
Filmed on Prince Edward Island (and in Toronto, Canada), in watching the movie you'll probably develop an itch to travel there yourself. Having visited Prince Edward Island, I can assure you that it is even more beautiful in person than Kevin Sullivan makes it look on film and Montgomery declares it to be through the printed word. Place believable characters on the ground with skill and sympathy for the art they are bringing to life and you have a little masterpiece on your hands. (Not that I'm biased or anything.)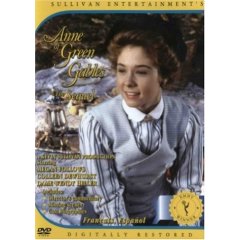 The first film in the trilogy
is definitely the best. Anne of Green Gables – The Sequel
takes a little more liberty than I'd particular prefer however I still think Sullivan managed to preserve Anne to a large extent. It didn't feel contrived at all. However, the third movie in the trilogy
is to be avoided at all costs. Maybe if someone threatened you with death or watching Anne Of Green Gables – The Continuing Story
, then I might suggest you watch it. Otherwise its pure heresy and should not be confused with anything Montgomery at all. It's as if Sullivan lost his mind when producing the third film. There's nothing truly Anne about it.
That said, the (first) movie is a Don't Miss but so are the books! You really ought to make the time for them if you haven't already done so. To encourage people to read more about Montgomery and learn more about the woman herself, I hosted a Lucy Maud Montgomery Reading Challenge on my personal blog, Reading to Know. I've spent this past month reading up on Montgomery and I've learned a few things as I went along. I've been wounded to some degree, by the history behind Anne. But at the same time, I've learned to love her all the more fiercely and loyally. You can read the other challenge participants' thoughts (including Jennifer's) on Lucy Maud Montgomery's works HERE.
I'm glad Anne is in my life and I would love to make the introduction into yours. Don't delay any longer if you have not acquainted yourself with Anne. I'm quite certain you'll wonder what took you so long!
Carrie is obsessed with Anne and she admits it because, after all, honesty is the best policy. She blogs about books, both Montgomery-related and otherwise, regularly at Reading to Know. If you promise not to make too much fun of her, she invites you to join in her reading journey. She'll try to be more subtle about her likes and dislikes in the future. But she makes no promises.