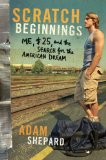 Scratch Beginnings: Me, $25, and the Search for the American Dream is Adam's Shepherd's story. Shortly after he graduated from college, he decided to see if he could start of with only $25 and the clothes on his back and end up with a viable job, a car that runs, a furnished apartment and $2500 in the bank by the end of the year.
He wanted to do this as a rebuttal to a couple of books that Barbara Ehrenreich wrote saying that American dream was no longer available.
So, Adam Shepherd sets out and begins life as a man living on the streets. In reading his story and those of the men he met living at the homeless shelter or working minimum wage jobs, I thought about poverty in a new way. I thought about homeless people in a different way — not just as homeless, but as people.
The book opens with a page upon which Adam Shepherd offers a couple of disclaimers. The first is the use of profanity. He said that he considered censoring the language to give it wider appeal, but he said it would take away from an accurate portrayal of the people he met. There is some strong language used in a few scenes, but I think given the subject matter, it's not overused at all.
The second is that he's not recommending his course of action he took by immersing himself in this world. In other words, "Don't try this at home."
Then in the prologue he says that he's not aspiring to great writing, but just telling his story, and the story of those he met. I don't agree. Adam Shepherd tells the story, and tells it well.
He has a very definite audience in mind — teens who feel adrift and parents of teens and young adults who lack motivation. He wants his book to serve as an encouragement to those who feel stuck. He offers up his own conclusion at the end about why Americans aren't succeeding any more. It's not because there isn't opportunity, it's because they don't have a plan.
I really enjoyed this book, and if you're interested in social causes, poverty in America, or the mentality of Generation X (Y?), I think you'd like it too.
I read this before I came on my trip to the Dominican Republic with Compassion Bloggers, but the background and mindset of those who are living in poverty was definitely helpful in opening my eyes.
Managing Editor Jennifer Donovan is a contributing editor at 5 Minutes for Mom. She has been blogging at Snapshot for over two years.