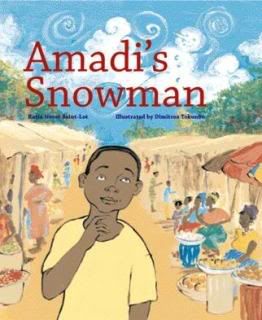 Before my children were born, I was a reading teacher at an inner-city school in East Nashville. With the exception of school field trips, many of the children I worked with had never been outside their housing project.
I remember sitting next to a young girl as she struggled to read the words in a very simple book. The text said, "I see the cow. I see the pig. I see the goat." When the girl tried to read the word goat, she was stumped. She checked the picture and could sound out the letters, but the word had no meaning to her. She had no idea what a goat was.
Of course, we talked about goats and I found other pictures of goats; I told her about the time a goat tried to eat the fringe off my cut-off blue jeans at a petting zoo. And although I couldn't show her a real goat that day, that little girl learned something new about the world through the pages of her book.
In Amadi's Snowman
, Katia Novet Saint-Lot writes a touching story about a Nigerian boy named Amadi. Amadi's mother wants him to learn to read, but Amadi has no use for books at all. Amadi tells his mother, "I'll be a trader. I don't need to read to do business."
One day, however, Amadi sees an older boy reading a book in the marketplace. Inside the book is a "strange animal with a nose that looked like a carrot", and Amadi is curious. The older boy explains about snow and tells Amadi that he reads to learn about the world. As Amadi goes through the rest of his day, he can't forget the snowman, and he has several encounters that reinforce his need for reading. Most importantly, Amadi realizes the joy that accompanies the ability to read.
Amadi's Snowman
is a touching reminder of how transformative books can be. As an adult, I relish the time I spend in other times and places through the stories that I read, but there is something special about the way that books can inform and encourage children, especially those who are limited geographically or socially. I encourage you to read Amadi's Snowman
. It is a beautiful reminder of the power of words.
Lauren is a wife, a mother of two, and an avid reader. She blogs at Baseballs and Bows.
Jennifer is in the Dominican Republic right now Making New Friends from a different culture. You can see the feed of all the bloggers' posts at compassionbloggers.com.