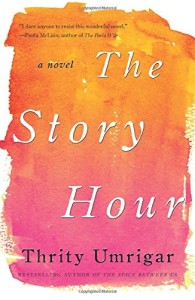 The Story Hour opens in Lakshmi's voice. She's lived in the United States for about six years when her husband comes to India to find a wife. She's unhappy because she's cut off from her family. She and her husband have a loveless marriage, and she's lonely.
At first I was slightly annoyed by her voice, which comes in broken English, but I quickly became used to it. It ended up showing an important side of her, which helped me understand and appreciate her more.
The story is also told from the point-of-view of Maggie, the African American therapist brought in to treat Lakshmi when she attempts suicide. Maggie is married to an Indian man, but that's not why she's drawn to Lakshmi. She can't figure out why she takes so much of interest in her case that she offers to treat her at no cost in her home office. She wants to help her heal and to find herself.
I was drawn into both of their stories. I wanted to know what made each of them who they are. Umrigar revealed bits and pieces at just the right time. I did not want this story to end.
As always, Umrigar shares the strength of women, but both Lakshmi and Maggie prove to be fallible heroines. It made some of the stories hard ones, but I think it's what also made it ring so true.
I have read 3 of Umrigar's novels since first coming across her when Weight of Heaven came out in 2009 (another 5-Star read for me). She has not disappointed yet. I think that The Story Hour is probably her strongest yet, because it combines that look at the darker side of human character which so captivated me in that first novel I read, with those themes so prominent in women's fiction of friendship, identity, and change.