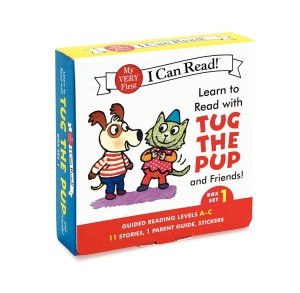 I found that my children were quite receptive to figuring out the fundamentals of reading at an early age, perhaps more so in their preschool years than when they reach the age when directed reading feels like school. Of course nothing compares to just reading great books with your children, so I hope that's your primary concern, but books that are set up with repetition and rhyme can go a long way to teach kids to read with a combination of phonics and whole language. Though my children are too old for these types of books, I was delighted when they landed on my doorstep and eagerly checked them out.
Learn to Read with Tug the Pup and Friends! Box Set 1: Levels Included: A-C (My Very First I Can Read!) has eleven books that progress in difficulty. The first book is at level A for guided reading. "Big Pig" has short repetitive sentences declaring and showing what Big Pig can do ("Big Pig can hop, Big Pig can skip" etc.). By the 11th book, the reading level is C. "The Birthday Party" uses words and characters who have already been introduced and has slightly more complex sentences such as "Peg the Chick will hold the balloons."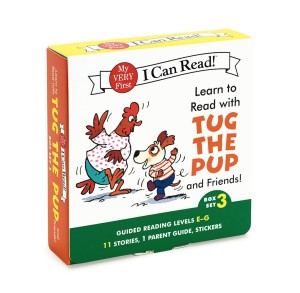 Readers can then progress to Learn to Read with Tug the Pup and Friends! Box Set 2: Levels Included: C-E. The format is exactly the same, and hits the middle ground between the first and third set. Learn to Read with Tug the Pup and Friends! Box Set 3 gets more advanced. The first book in the box "Flat Tire" starts at guided reading level E with longer sentences such as "'That tire really is flat,' said Nat the Cat." The eleventh book "The Dancing Lessons" is level G and has two or three sentences per page, such as "'Now we know our dance moves,' said Pen Hen. 'Big Pig, we're ready for you!' Big Pig plays a happy tune on his fiddle."
They are also available on Kindle, which might be a fun experience for kids and certainly easy to carry and use on a Kindle app on your phone.