Is there anything better than discovering a new author? One who writes a novel so enjoyable that you can't wait to read her next offering? Well, Amanda and I have found one: Rebecca Stead.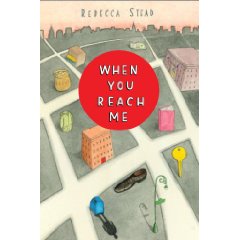 The back of this book describes it as "a remarkable novel (that) takes place in the real world, but holds a fantastic puzzle at its heart. When You Reach Me is original and a brilliant and profound delight."
Wow — how can a book live up to that kind of hype?? I don't know, but this one did. It's a perfect description — this is the real world. Twelve-year-old Miranda lives in NYC in the late 70's, and Stead's characterizations are spot on, with such observations as what the birthright of a latchkey kid is (watching TV and eating junk food). The difficulties of navigating friendships as one grows up is also a key theme.
It's real — and yet not. When sixth-grader Miranda begins receiving strange notes that seem to come from the future, she is unsure what it means. You don't want to know too much either — the book is much better if you allow the author to take you along on the ride. The mystery unravels slowly, but the puzzle is not complete until the end of the novel, making for a very satisfying conclusion.
Another neat technique employed in the telling of the story is the connection to Miranda's most favorite book, A Wrinkle in Time. As it so happens, Amanda and I were listening to a recording of that book just after Amanda read this book, and just before I read it, which was a neat layering — drawing more meaning out of both stories.
If, like me, you grew up in this time, or like Miranda A Wrinkle in Time is your favorite book, you will be as delighted as your own tween is at When You Reach Me. If you're an adventure-loving kid (of either sex), like my own sixth grader, you'll be captivated too!
Jennifer Donovan is a former latchkey kid who took full advantage of the rights and privileges associated with it. She still gorges on junk food and TV when no one else is around.