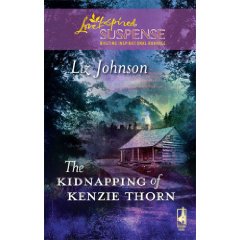 The Kidnapping of Kenzie Thorn is author Liz Johnson's first novel. I hope it won't be her last.
As the title suggests, this is a story of suspense. Kenzie is a young teacher at a state prison, as part of a new state-funded program to help inmates obtain their GEDs. She feels an instant, forbidden attraction to Myles Parsons when he joins her class. A few days later, Myles kidnaps her and tells her he's really FBI agent Myles Borden and he's been assigned to protect Kenzie.
Initially, Kenzie rebels in disbelief. She finally begins to trust Myles and tags along with him to find the person who wants her dead. Through the twists and turns of their adventure, both Myles and Kenzie realize their working relationship is developing into something that will last beyond the investigation – or will it?
Filled with mystery and romantic tension, The Kidnapping of Kenzie Thorn is a great book to curl up with this summer.
Melissa has been captivated by books for as long as she can remember. She resides in Virginia and blogs at Breath of Life.