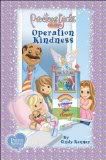 As the mom of a young girl, I am deeply concerned about the way society wants our daughters to grow up so quickly. I am sure I am not the only irritated by so much of the clothing, toys, books, and other items that are marketed to our girls. Thankfully, there are still some wholesome resources available.
Precious Moments, the maker of the collectible figurines we all know so well, has started the Precious Girls Club. This club is based on a new series of books that centers around the life of Katie Bennett and her diverse group of friends. One of these books, Operation Kindness
, tells the story of Katie and her friends as they work together to use their talents to serve others. The book is a beginning chapter book, and it also includes color illustrations throughout the story.
I think these books have great appeal for young girls, and the folks at Precious Moments have added to this appeal by creating an online world that works as a companion to the stories. You can check out this site by clicking HERE. We all know that kids enjoy the virtual aspect that comes with many of today's toys. Through this site, kids can experience online fun in a safe environment that builds upon the values introduced in the Precious Girls Club books.
If you are interested in The Precious Girls Club, please leave a comment. One lucky winner will receive a copy of Operation Kindness
and a Precious Girls Club plush toy. We will announce the winner in next Wednesday's giveaway post.
The winners of the Chicken Soup Book Tough Times, Tough People are #7 Linda, #6 Terra Heck, #15 Winning Readings
Lauren is a wife, a mother of two, and an avid reader. She blogs at Baseballs and Bows.