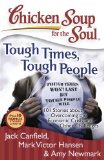 If you like to read inspirational essays written by real people, then my guess is that you're already familiar with the Chicken Soup for the Soul series of books. I've been known to cry over a few of these books myself, and they certainly make a good gift for those of us with sentimental family members as well. The latest offering, Tough Times, Tough People adds more encouraging and supportive tales to the collection, and it comes at a particularly poignant time these days.
There's no denying that we are currently living through some challenging economic times, and this helping of Chicken Soup offers up servings of survival stories- through financial messes, sudden illness, loss and grief, and ultimately emphasizes the power of the human spirit in recovery and healing. As always, the short stories are accessible and emotional, and the book is perfect for when you want to read and be inspired, but you only have a few minutes at your disposal.
Are you in need of a little Chicken Soup for yourself? A copy of Tough Times, Tough People is waiting for three lucky winners! Please leave a comment to enter. We'll announce the winner in next week's giveaway post.
And don't worry, there will be more Chicken Soup giveaways all year long– keep your eyes open, and your soup bowl at the ready! You can also check out all our current giveaways by clicking the tab on the navbar at the top of the page.
The winner of Violet Raines Almost Got Struck by Lightning is #37 Maureen.

And the two winners of Biography: Harry Potter Kids are #77 Linda C. and #45 Adele.
Dawn has been known to shed a tear or a million over a good book. More emotions are always on display on her blog, my thoughts exactly.