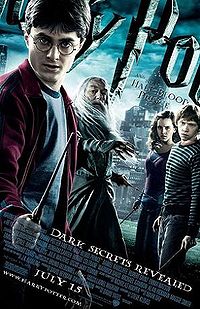 I love Harry Potter! I've read each of the books at least twice, but Harry Potter and the Half-Blood Prince is probably my favorite. The other books answer the Who, What and How but HBP tells us Why. I believe it is the most important of the seven books, and, after an extra eight-month vampire-imposed delay, it is finally on the big screen, and we were there at midnight to see it first!
There are lots of things to love about this movie. It is easily the most humorous of the series. There was so much laughter in our theatre that we missed the next line several times. It is also, in my opinion, the best directed. David Yates, who also directed Order of the Phoenix, has found his groove, and he seamlessly connects large sweeping scenes to small intimate ones. I loved his framing and the just-barely-missing-one-another moments with Harry and Draco Malfoy. Speaking of Malfoy, Tom Felton is absolutely perfect in this film. Over that past nine years we've watched him grow from that sneaky little blonde bully into a tall, handsome, troubled young man. The task Voldemort has given him weighs heavily on him throughout the movie resulting in much more face time than in the previous two films. We also get to see the "bad blood" between Harry and Malfoy come to its climax thanks to the Half Blood Prince.
There are other wonderful performances by the actors we have come to love. Rupert Grint is at his humorous best as Ron and Bonnie Wright finally joins the inner circle as his sister, Ginny. I will admit that I have always felt that Richard Harris was the quintessential Dumbledore and that Michael Gambon has never quite been able to fill his shoes very well, but this was by far his best performance. He has become the sage, the aging leader, and even performs a Charleton Heston-esque parting of the "red sea."
This is the portion of the HP saga where relationships, good and bad, are in the spotlight. I would go so far as to say that relationships are this movie. There are wonderful scenes of the joys and the heartbreaks of young love that contrast vividly with the complete lack of any relationship in the life Lord Voldemort. Several times throughout the series, Harry has been reminded that it is his ability to love that makes him different than Voldemort, a difference that brings life its joy, and sadly its pain…as Harry rediscovers when he loses yet another important person in his life.
Die-hard Harry Potter fans will be frustrated by much of what was left out of this film. I found it ironic that even the namesake, the Half-Blood Prince, gets little more than a passing nod. I was most disappointed that so much of Tom Riddle's story, the information that makes Voldemort more than just an evil two-dimensional villain, are missing. I did feel that much of this movie, while fun, was more of a set up for the final two installments than a great stand-alone story.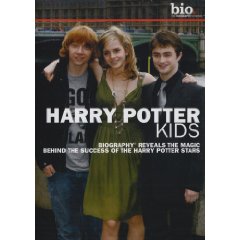 I was somewhat surprised when I first heard that HBP received a PG rating, but, other than a couple of rather scary scenes, most parents of elementary kids and above can feel good about seeing this one together. After all is said and done, Harry Potter and the Half-Blood Prince will make you laugh, make you cry and leave you counting down until November 2010 for the next installment of this blockbuster series.

Are you (and/or your kids) hungry for any bit of information you can get about the kids who play Harry Potter and his friends? Would you like to win a copy of the A&E Biography: Harry Potter Kids? We have two copies to give away. Leave a comment, and we'll post the winners on July 22.
Kipi Ward is a single mom of three girls who all love to read. A former elementary reading teacher, she currently is substituting while she finishes her master's degree in mediation. She blogs her random thoughts about life at In My Own Little Corner.
Feel free to enter our other current giveaways. Subscribe to our feed. Follow us @5M4B on Twitter. (These do not earn you extra entries, but we'd love for you to be able to stay in touch!)