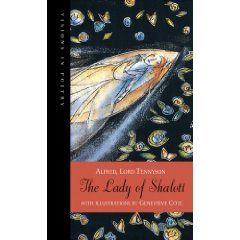 I have admitted before that I am not a poetry fan. In fact, the only reason I will willingly pick it up is if it has something to do with Lucy Maud Montgomery and anything she ever wrote. Anyone who is remotely familiar with the story of Anne of Green Gables knows that Anne was a pretty big fan of Alfred Lord Tennyson's Lady of Shalott
. So when I saw that this particular poem was offered by Kid's Can Press in their new Visions in Poetry series, I had to check it out!
Ok, I still don't really understand the poem itself but I think it's beautiful and haunting. Parts of it make sense to me but I feel like I'm lacking in the "deep meaning" department. (I just flat out don't get poetry although I do try!) I cracked open The Lady of Shalott
and was drawn in to Genevieve Cote's illustrations of this old poem.
On either side the river lie
Long field of barley and of rye,
That clothe the wold and meet the sky;
And thro' the field the road runs by
To many-tower'd Camelot;
And up and down the people go,
Gazing where the lilies blow
Round an island there below
The island of Shalott.
Cote tells her own version of this classic poem by blending the time periods in her illustrations. There are castles and "bold Sir Lancelot" side-by-side with images that seem to promote the golden age of Hollywood. It's quite unique but I didn't mind it at all. I found each page spread equally interesting and I like Cote's interpretation on the whole. Yes, it's a deviation from Tennyson's original, dare I say masterpiece?, but I think it's faithful enough and exciting as well. Lovely, lovely work and I'll tuck this book away on my bookshelf to pull out from time to time.
(Off subject to some extent but have you heard Lauren McKennet's version of The Lady of Shalott? It's my favorite. Take a listen by clicking here.)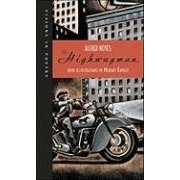 In the ("only") movie version of Anne of Green Gables
, Anne participates in a concert at the White Sands Hotel and decides to recite Alfred Noyes' The Highwayman
. I remember reading this poem in high school and (surprise!) it made no sense to me. But I still "enjoyed" it because Anne had read it. Along comes the Visions in Poetry edition of this book
and Murray Kimber's illustration and suddenly the entire poem makes sense to me. (I'm thick headed. Apparently if you utilize a motorcycle in a grand poem, I'll get the point!) I found this particular edition exciting because I could finally SEE that the poem tells a story and it is touching and does, in fact, cause one to cry. It's a pathetically sad and tragic poem but Kimber brings just enough romantic drama to the whole ordeal that it feels worthwhile somehow.
Back, he spurred like a madman,
shouting a curse to the sky,
With the white road smoking behind him
and his rapier brandished high.
Blood-red were his spurs in the golden moon;
wine-red was his velvet coat;
When they shot him down on the highway,
Down like a dog on the highway,
And he lay in his blood on the highway,
with a bunch of lace at his throat.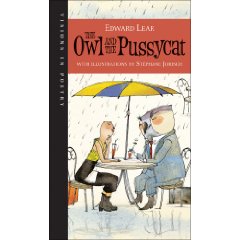 Lastly, if any of you are particular fans of The Road to Avonlea show, you may recall that Sara Stanley recites The Owl and the Pussycat with her theatrical cousin, Pigeon Plumtree. Lo and behold, Kids Can Press also offers an edition of The Owl and the Pussycat
! The illustrations are done by Edward Lear and they are quite unique – but fun! It's just an interesting twist on this old poem.
Ok, so now I've confessed to you that 1.) I am pathetic when it comes to not understanding poetry. 2.) I am a sick devoted fan of Lucy Maud Montgomery and will read anything to connect with her work in a deeper way. 3.) I very much appreciate Kid's Can Press for bringing poetry to life through illustrated stories. They've done an admirable job and I'm quite a fan.
(By the way, there are other, non-Anne related books in their Visions of Poetry series. You can view the rest of the books by clicking here on the Kids Can Press website.)
What about you? Are you a poetry lover? Are there particular poems that you feel drawn to for any specific reasons? I've shared so now it's your turn! Don't leave me feeling quite so alone, ok?
Carrie comes by her book obsession honestly, having descended from a long line of bibliophiles. She blogs about books regularly at Reading to Know.