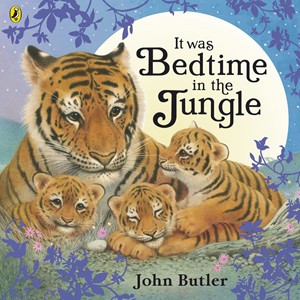 Awhile back I highlighted the work of John Butler. You may recall that I expressed great love and appreciation for his work. Well, that fact hasn't changed. If anything, the love has grown stronger as I've gone around collecting his books. His books have a special and even designated spot on our bookshelves. We read Can You Cuddle Like a Koala?
and Can You Growl Like a Bear?
for interactive activities for my son's second birthday. I think Butler is extremely talented and I love sharing his books with my children.
I was thrilled then when I discovered that Peachtree Publishers were releasing a new title called Bedtime in the Jungle
. Now my son could not only enjoy looking at Butler's animals – but he can look at JUNGLE ANIMALS (which are the current rage around here). Rhinos, elephants, crocodiles and more. Butler style, of course, which means they are cute and cuddly while still being incredibly realistic in nature. In this new book the animals in the jungle are getting ready for a good night's rest. The reader also counts the animals from 1 to 10, beginning with one rhino and concluding with 10 elephants.
It was bedtime in the jungle,
And by the river bend
Elephants were gathering
With their babies ten.
"Dream," said their mothers.
"We'll dream," said the ten.
And they dreamed beneath the stars, down by the river bend.
This is an adorable book and a welcome edition to the world of children's literature.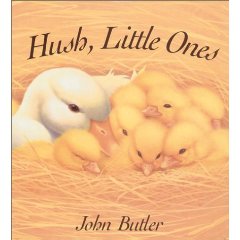 Not to be forgotten are Butler's older works. Hush, Little Ones
keeps the same theme as Bedtime in the Jungle
. The animals are getting ready for the night but this book is more about cuddling up than counting. Little monkey rests his head on his mommy, the kangaroos 'drift into dreams' and mommy whale sings a lullaby. There are a variety of animals in this book beyond the ones listed above. Lions cuddle as mice get snug in their cozy nest. When my son starts bouncing around before bed time, we just pull these titles out and read in a soothing voice as we look at the cute animals. Works like a charm. He becomes fascinated with the animals as we cuddle up ourselves, getting cozy before nighttime.
I LOVE JOHN BUTLER'S BOOKS! If you haven't checked them out yet – why not? I hope you have a good reason because I cannot see any reason not to! Butler is an amazing artist who captures the amazing characteristics of animals and brings them to life in a way that is approachable and makes them very familiar to little ones. Love it, love it! Can I say that again? LOVE it!
Do check them out!
Carrie comes by her book obsession honestly, having descended from a long line of bibliophiles. She blogs about books regularly at Reading to Know.