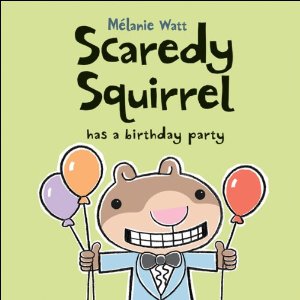 He's ba-ack. Yes, the little squirrel who is a little fearful about trying new things is back with an all new obstacle to hurdle. He's tackled getting out of his tree, making a friend, going to the beach, and nightmares. With those fears conquered, he's decided to have a birthday party.
At first, he decides that he's just going to invite one person — himself — because he can manage that. But then he gets an early birthday card from his friend Buddy the dog (star my very favorite book in the series Scary Squirrel Makes a Friend), and decides that he would like to invite his friend. Because he's inviting a friend, he needs to be prepared with good conversation starters to use and not so good ones to avoid (like suggesting a breath mint). It's funny, but honestly as a parent, I try to coach my kids in how to make and develop friendships all the time, and the idea is a valid one.
Scaredy Squirrel Has a Birthday Party by Melanie Watt brings us more of Scaredy's delightful humor and fearful bravery. The formula is exactly the same as in the previous four books, but I haven't tired of it at all. Why fix what isn't broken?
I'm going to have to give Scaredy Squirrel and his creator Melanie Watt a spot on our 5 Star Reads list with this one.

Jennifer Donovan loves to hear her children laugh, and Scaredy Squirrel does the trick. She blogs at Snapshot.