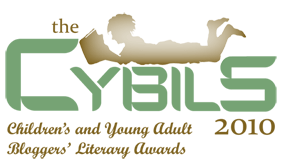 Have you been reading any Cybils nominees or finalists or winners from 2010 or from past years?
If so, we'd love for you to link up your reviews from the last month. If not, it's still not too late to join in our Cybils KidLit Challenge**. There's no official sign-up. You can certainly write up a goals post (and link it here below), or you can just start reading, and then come back the 2nd Tuesday of each month to link up.
**This challenge is not affiliated with the Cybils award blog. We are simply using the Cybils as a way to encourage you to read and discuss quality children's literature, which is one of our goals here.
Check out our current giveaways. Subscribe to our feed. Follow us @5M4B on Twitter.
The next opportunity to link up will be April 12.