Because of lack of participation (in numbers, not in enthusiasm), we decided to drop our two Tuesday carnivals where we invited you to share reviews of Children's Classics and Kids' Picks. It wasn't easy, and I've already been missing Kids' Picks.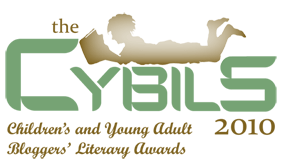 In an effort to fill that gap and to encourage you to read quality children's literature with and to your kids (or completely on your own for the sake of personal enjoyment), we are launching the Cybils KidLit Challenge. This is a wide and flexible challenge, wherein we will simply invite you to use the Cybils award-winners (past and present) to achieve some reading goals.
If you'd like to write up a list of goals, you can link it up here. If you want to just join in sporadically, that's okay too.
On the second Tuesday of the month, I will post a linky where you can link up any reviews that you've posted over the previous month. What you read is entirely up to you, but here are some suggestions:
Pick a category and read all the winners or shortlisted titles from every year (2006 – 2011)
Read every winning or shortlisted title in every category for 2011. The winners will be announced on February 14.
Dig even deeper and try to read 50 nominees (or more) in a certain category.
One of the hallmarks of the Cybils is to find books that combine literary merit and kid appeal. Test this out with your kids by reading shortlisted titles from this year or a previous year and seeing how you rank them versus how your kids rank them.
Need something simpler? Commit to read and review one winner or shortlisted title each month.
The Cybils categories guarantee that there's something for everyone: Easy Reader/Short Chapter Books, Fantasy & Science Fiction (in Middle Grade and Young Adult), Fiction Picture Books, Graphic Novels, Middle Grade Fiction, Non-Fiction Picture Books, Middle Grade and Young Adult Non-Fiction, Poetry, Young Adult Fiction.
**This challenge is not affiliated with the Cybils award blog. We are simply using the Cybils as a way to encourage you to read and discuss quality children's literature.
Interested? Link up some thoughts or goals below. Come back on February 8 to link up any reviews that you may have posted in 2011.