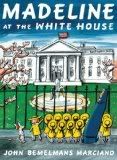 "Their old house in Paris is covered with vines and they travel about in two straight lines. Their plane gets in at half past nine. The smallest one is…"
I am sure that most of you can finish this sentence. Madeline has been a beloved children's character for more than half a century. Author Ludwig Bemelmans introduced Madeline in 1939, and he wrote many stories throughout the next two decades. Thanks to his grandson, John Bemelmans Marciano, children can enjoy new Madeline stories today.
Read Lauren's review of the latest release, Madeline at the White House, over at 5 Minutes for Mom, and enter to win a prize pack of the book, a 16 inch Madeline plush doll, and a tin tea set worth $68 (U.S. only). Comments are closed here to remind you to leave a comment there.
For all of you Madeline fans out there, I will end my review in true Bemelmans' style: I hope my review wasn't a bore. That's all there is, there isn't any more.
Lauren is a wife, mother of two, and an avid reader. She blogs at Baseballs and Bows.
Dawn also reviewed the book over at her site, and she can report that her children, who happen to live about 12 miles from Washington, D.C., are two very big fans of this new book and were excited to recognize some of the illustrated landmarks! Read her full review of Madeline at the White House at her blog.
Dawn blogs about books, an avid NPR obsession, and all things random at my thoughts exactly.