There's an undeniable appeal in the idea of superheroes, especially to kids– the ability for good to reign supreme over evil, all those powers, the awesome gadgets and costumes! The major superheroes are well-known, but with a new series, the attention turns to the animals who work with the heroes we all know and love.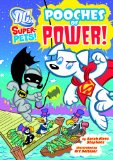 DC Super-Pets! brings to life a large cast of superhero pets, from Batman's pal Ace the Bat-Hound and Krypto the Super-Dog friend of Superman, to Wonder Woman's Kangaroo Jumpa and B'Dg, The Green Lantern's Space Chipmunk, among others. The first six books of the series have released in January aimed at children in grades one to three, including Pooches of Power, Midway Monkey Madness, Super Hero Splash Down, Heroes of the High Seas, The Fastest Pet on Earth, and Royal Rodent Rescue.
These short chapter books are geared toward newly independent readers, with brightly colored illustrations incorporated throughout the text, although I have to say that my younger children have been fascinated by the books and keep begging to hear the stories. Each adventure sees a super-pet or two working to defeat the actions of the super-villain pets. Oh yes, some of the most well-known villains also have pets, and they need to be stopped! The story lines are creative and appropriate for young children, yet still filled with action and adventure. Also included at the end of each book are pages with silly jokes and definitions for the most challenging words from the text.
From now until February 28, 2011, Picture Window Books is sponsoring a super-cool writing contest for kids in first through third grade. Entrants must write an imaginary newspaper article for The Daily Planet all about his/her own super-pet. Contest details and complete rules can be found here.
If your children are already fans of superheroes, be sure to introduce them to their furry super-friends in DC Super-Pets!