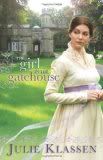 Since her first novel, Lady of Milkweed Manor
, I have read all of Julie Klassen's books. I enjoy that her stories are set in the Regency period (they allow a brief visit with Jane Austen's England), and her leading ladies are such likable characters.
Julie Klassen's new novel, The Girl in the Gatehouse
is no exception. Like Lady of Milkweed Manor
, The Girl in the Gatehouse
is the story of a disgraced young lady. Mariah Aubrey is banished from her family home and sent to live in an abandoned gatehouse on the property of a relative. Her maid is her only companion, and she supports herself by secretly writing novels. Mariah, however, is not the only one with secrets. Her cousin, employees of the estate, and even residents of the local poorhouse are surrounded by mysteries. As if all these characters were not enough, a dashing young captain leases the estate and brings friendship for Mariah, but also reminders from her past.
If you are a fan of Jane Austen, of historical fiction, or simply enjoyable, romantic tales, The Girl in the Gatehouse
is worth your time. Although this wasn't my favorite of Julie Klassen's four novels, I thoroughly enjoyed the relationships, the humor, and the message of the story, and I recommend it to you.
I am happy to say that we have one copy of The Girl in the Gatehouse
to give to one of you. If you would like to win, please leave a comment on this post. We'll announce the winner on 2/16.
This giveaway is now closed. Thanks for all the entries!
Check out our current giveaways. Subscribe to our feed. Follow us @5M4B on Twitter.
Lauren is a wife, mother of two and an avid reader. Although she is happy to live in 2011, she enjoys visiting the world of Jane Austen, and she thanks Bethany House for the opportunity to do so through the pages of this book. Lauren blogs at Baseballs and Bows.