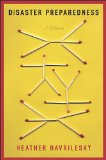 Reflecting on her 1980s childhood in Disaster Preparedness, Heather Havrilesky walks a fine line between fully describing her family experiences and pointing an accusatory finger at her parents for their often cavalier attitude toward her needs and those of her siblings. Deeply reflective, Havrilesky holds her own choices and motivations under a microscope, as well, effectively creating a character study of herself, along with the other major players in her childhood life.
Exploring her early years as well as her adolescent and young adult years, the author shares a wide variety of stories of formative experiences. Family strife was the norm, and the realization that other families didn't argue with the ferocity and frequency of hers came as a shock for her when she was young. Even worse, though, was trying to piece together a day-to-day normalcy when her mother decided to move out, indicating that it was only a temporary situation, but leaving the children feeling bewildered and confused about what would come next. Through her parents' inevitable divorce, her father's years of womanizing behaviors, and an adolescence spent just trying to find an identity that felt natural, Havrilesky maintains an honest tone that manages to convey both pain and humor, frustration and ultimate acceptance.
While reading each chapter, my comfort with the author grew and grew, so that by the end of the memoir, I felt as if we could absolutely be friends, for this woman is authentic and hilarious, that's for sure. I found both her reflections on her childhood and adolescent experiences AND her ability to craft beautiful passages about them to be incredible. This isn't so much a memoir about surviving a crappy childhood and rising above it all as it is a recollection of some depressing times and the ability to see through the poor actions of her parents, her peers, and herself to the reality of it all. There's more acceptance than finger pointing, and not the 'holier-than-thou' type of acceptance, either. Havrilesky seems to be at a place in her life where she's ready to move past being angry at people from her past for their failings. She can see the mistakes for what they are, without demonizing the people who made them. While we may not have identical background experiences, there's something universal to the way in which she describes her childhood and teen years that I could absolutely relate to.
I'm thrilled to be able to offer a copy of Disaster Preparedness to one of our 5 Minutes for Books readers! To enter the giveaway, leave a comment on this post, U.S. and Canada residents only, please.
This giveaway is now closed. Thanks to all for entering.
Check out our current giveaways. Subscribe to our feed. Follow us @5M4B on Twitter.
Dawn's failing memory skills won't ever assist her in writing her own memoirs some day, but she will be happy to look back at her blog, my thoughts exactly, to be reminded of the silly little things her life brought about.