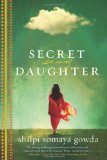 Shilpi Somaya Gowda's first book is excellent. I'm already looking forward to her second.
Her writing is rich and descriptive and beautiful — yet not overly flowery at all.
Secret Daughter is a lovely story that takes place in two countries — U.S. (San Francisco) and India — and spans 25 years. Kavita and Jasu are living in a small Indian village. Girl babies are expensive since they have to be married off with a dowry, and they can't help with the farming, so they are highly undesirable. Kavita's first pregnancy is a girl, which her husband takes away to be disposed of. When she has her 2nd daughter, she is determined to save her by taking her to the orphanage.
Somer and Krishna are both doctors — he an emigrant from India from a fairly well-to-do close-knit family, her a white, blonde only child who has been surrounded with love and support. When they have trouble conceiving, Krishna's mom sends them information about adopting from India.
I loved this book.
The characters were mostly likable and definitely real. The story is told from the point of view of the women in the story. Along with them, we explore the changes that a marriage goes through with age and stress, and the difficulties and joys of raising children. Because the whole book follows two families over such a long period of time, the surface is barely scratched of the day to day details of their lives, and yet, the reader completely understands who they are.
For those of you who monitor the content of your books, I'm fairly sure that this is a clean read. If there was profanity, it was very minimal, and I don't remember any other "mature content." It's not an easy read, because of the hopelessness of the situation of the poor in India, but I didn't find it to be depressing at all.
The writing was beautiful, the story moved me, and the characters will be with me for a long long time.

Jennifer Donovan loves nothing more than getting lost in a good book. She blogs at Snapshot.