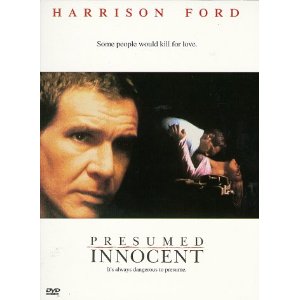 In the 1990's the legal thriller was king. There probably aren't many people who were reading in the 90's, whether confirmed bookworms or summer vacation readers, who haven't read a John Grisham book. But before any of John Grisham's bestsellers then movie blockbusters, there was a 1987 book and 1990 movie — Presumed Innocent.
I won't give the movie away, because I know that there are some of you reading this who were weren't old enough to watch a rated R movie in the early 90's, but I still remember the hype — this suspenseful story of murder and betrayal with a surprise twist at the end.
I recently watched the movie to prepare to read the brand new Scott Turow novel Innocent, which revisits the same character Rusty Sabich 22 years later.
This movie keeps you guessing as more and more information and seeds of doubt are planted in regards to Carolyn Polhemus' murder, which fellow attorney Rusty Sabich (played by Harrison Ford) has been accused of.
I have to say that it's funny watching a movie made in 1990. It almost feels like watching a black and white movie. The computers, the phones, the difference in film quality are almost distracting. But if you haven't seen the movie and enjoy a legal thriller full of twists and turns, I highly recommend that you check it out.
And if you are like me — one of the millions who were hooked by the book/movie the first time around — check out my review of Innocent by Scott Turow.
Jennifer Donovan enjoys a great story, whether on screen or stage or in the pages. She also blogs at Snapshot.