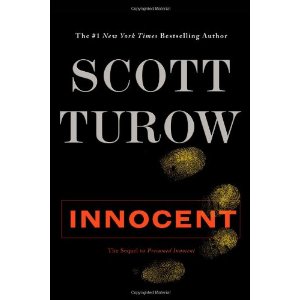 I honestly never thought about what happened to Rusty and Barbara after the conclusion of Presumed Innocent, but Innocent tells the story of a marriage strained by mental illness, the results on a young boy, now a young legal professional, the impact on a career.
When Barbara is found dead, Rusty's actions after he finds her that morning in bed are suspect, and he's accused of murder — again.
Turow delivers another spell-binding legal suspense thriller. The truth unravels slowly and is fully explained by the end.
I enjoyed seeing the growth in Nat (the son) and Rusty over the course of the novel. I think that the characters are a bit stronger and more developed than in many legal thrillers, and that made it even more enjoyable for me.
I revisited the movie version before reading this book. I don't think it's necessary if you are familiar with the story, but if you haven't read the book or seen the movie recently, I would definitely do so before you read this one. Read my review of the Presumed Innocent movie if you are curious about what the first installment was all about.
Jennifer Donovan's reading interests run from women's fiction to literary fiction to memoir, with the occasional suspenseful thriller thrown in. There's very little intrigue in her everyday life, which she blogs about at Snapshot.