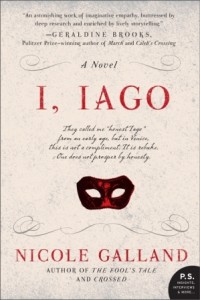 When it comes to Shakespearean villians, one name appears at the top of most readers lists. Iago, the conniving and self-serving villain in Othello, is an often analyzed character. With the spring release of Nicole Galland's novel I, Iago, Iago himself gets the opportunity to tell his own story. And what a storyteller he is.
The book opens with Iago as a child, keenly aware of his low status in the family as the fifth born son. His intelligence and observational skills are evident immediately as he shares his perspective on family members and figures in his community. It is clear that Iago's sharp mind could bring him great success in life if it weren't for the societal restrictions placed on him based on birth order. Even so, as a young child he discovers that he can use his cleverness to work to his advantage. As an episode is described in which he manipulates another person based upon his knowledge of the importance of public appearances and how the other people will react, we see the realization of this power hit Iago. Iago's first turn as a puppet master is successful, and we know it will not be the last.
This intelligence and ability to read people and situations do Iago no good when it comes to breaking out of his prescribed future, and even he cannot bring himself to defy his own father. So he goes off to military school as he is told, though he longs for a different path. It is here that he successfully enacts a plan to get revenge against someone he feels has wronged him, for public humiliation is not something that he can tolerate. Can you see the foreshadowing?
Previous experiences like these help solidify Iago's nature as a man who highly values appearances and what he perceives as justice. As a good judge of situations, public perceptions, and societal rituals, Iago is primed to be successful in his career path, but he still finds his ability to rise to higher positions at the mercy of others. When Othello enters the picture and Iago becomes his trusted advisor, he begins to envision a future of power, a future that he believes is justly due to him.
Much of the novel parallels the time frame and events of Shakespeare's Othello, though the storytelling responsibility is shifted to Iago, and his indignant voice implores that readers understand his viewpoint. His vulnerability is on display more in his telling of the story than in the original play as his expectations fail to come to fruition. We see his quiet fury become uncontrollable when he feels betrayed by Othello, and he cannot fathom the idea that he will not reap the rewards that he feels he has earned. His fear of being replaced as Othello's confidant coupled with the potential of being perceived as a failure by his wife Emilia fuels his blind rage, and readers witness the behind-the-scenes planning and activation of the plan that makes Othello a great tragedy with a high death toll.
For all the cunning and conniving, I have to say that I did feel sadness for Iago, for his fate was set from birth. He would never have the chance to rise to the greatness that he could obviously have handled. His descent to a level of detachment that allowed him to take such terrible advantage of situations and people to the extent that he did was powerful to witness, and Nicole Galland expertly depicts his character as first written. If I may say so, I believe William Shakespeare would approve.
I'm giving I, Iago our highest recommendation as a 5-Star Read for its sharp writing and deft storytelling. Though "literary" in nature, I found this novel to be highly absorbing, a skillful exercise in character analysis through entertaining writing.
Dawn looks forward to a summer reading more novels than lesson plans, as she takes a seasonal hiatus from her day job. Maybe her blog, my thoughts exactly, will get a wee bit more attention, too.