I first reviewed the Host in our weekly book review column at 5 Minutes for Books in June 2008. It was a new hardcover release, and I was drawn to it. I hadn't read the Twilight books (and still haven't!!), but everyone who had raved at the way the stories pulled them along. The Host is her first book written for an adult audience, and it was incredibly well-received. With a movie due out in 2013, the buzz is still going.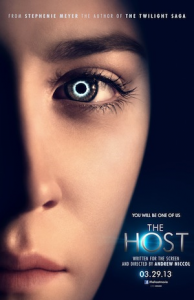 I was approached with a giveaway opportunity for the paperback book since it's a perfect summer read and will help people get ready for the March 2013 The Host movie release. Since I myself read the book in a hammock while on a vacation, I definitely agreed with the summer read recommendation!
Here's my review as it first appeared at 5 Minutes for Mom:
No, I'm not into vampires, nor did I think that I would be into alien parasitic life forms that have conquered earth and are using human bodies as their hosts. . . but I was swept off my feet by The Host. From chapter one, all I wanted to do was keep reading until the story had reached its conclusion. With over 600 pages, it's a good thing that I was reading it on a relaxing beach vacation, because I stuck with this thing and finished it within 24 hours. I'm not sure how I would have managed childcare, housekeeping and meal preparation on top of the desire to get to the end of the story.
I marvel at writers who can create something from nothing. Creating an original story about regular people is hard enough to do well, but to create a compelling human drama in the midst of a new reality–as Meyer has–is astonishing to me.
The Host is set on a futuristic earth where a colony of silvery worm-like life form who call themselves Souls have taken over control of Earth by inserting themselves into the human bodies. Generally that wipes out the personality of the human, and the Soul takes complete control, but when the soul Wanderer is implanted into host Melanie Stryder, things are a bit different. Melanie is one of the few humans left, a part of the resistance who are fighting hard to preserve their race. When Wanderer takes hold of Melanie's brain, she continues to hear Melanie's thoughts and desires. Melanie is angry by being trapped in her own body, and Wanderer is frustrated by her lack of complete control. The struggle between the two souls trapped in one body is compelling in a strangely relatable way. Caring about an alien and a rebel human surprised me, but I did become deeply vested in these characters, as well as those in the resistance cell they stumble upon.
Reading my description just doesn't do this story justice. If you like a good suspenseful story with a little romance, an imaginative setting and real-life twists and turns, give this a try, even if sci-fi and fantasy aren't what you normally read.
Another strong selling point of this novel is the lack of profanity or sex. Think the creative genius and storytelling ability of Stephen King without the backdrop of profanity and other vulgarities. This was published as an adult novel, but because of this, it's certainly appropriate for high school readers as well. You can read more about the author and an excerpt of the book at Stephanie Meyer's website, which gives a tagline that sums it up for me describing her books, "Science fiction for people who don't like science fiction." The publisher's website also includes an excerpt and a cool preview video.
After re-reading this review, I think that I'd like to include a re-read on my summer list. My daughter has also asked me about it, and after I reacquaint myself with the specifics, I'll probably let her read it too. She was too young at the time, but I think when I read it 4 years ago, I thought it would be okay for high schoolers (most of whom read regular adult books anyway).
I'm happy that we have FOUR copies to give away. Please leave a comment for a chance to win. We'll announce the winners in our giveaway column on June 13.The giveaway is closed.
We have a TON of giveaways this summer! Don't miss our current giveaways. Subscribe to our feed. Follow us @5M4B on Twitter or on Facebook.