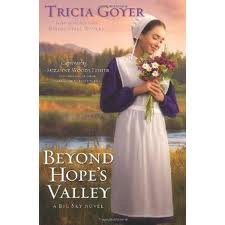 Beyond Hope's Valley is the third book in the Big Sky series by Tricia Goyer, which tells the story of a young Amish woman, Marianna Sommer.
In the first book, Beside Still Waters (reviewed by Lauren here at 5MFB), Marianna's family moves from Indiana to Montana, where they encounter a community in which the Amish mix more freely with the Englisch (non-Amish). This book sets the stage for what she is learning in her relationship with God and introduces the two very different men she is attracted to. The second book, Along Wooded Paths, reveals more about both of the men who are interested in Marianna, as well as showing the whole family move towards healing from past hurts.
As Beyond Hope's Valley opens, we see Marianna growing even more confident in her newfound closeness with God. But her faith is tested when she moves back to Indiana to pursue a future with her chosen love. She must deal with how the recent changes in her spiritual life will be received by the community she used to be such an integral part of, as well as see how the relationship with her intended will weather their differences. In the meantime, her Englisch suitor is figuring out what, and whom, he really wants in his life and what he is willing to do to realize his dreams.
While Beyond Hope's Valley is my favorite of the three books, I would recommend reading them all to get the full scope and impact of the story. This series is a great read for anyone who enjoys Amish fiction, especially with the fascinating juxtaposition of the Indiana and Montana settings.
The discussion of opening oneself up to a personal relationship with God is also handled in a respectful but honest way, as well. And on a personal note, Marianna's reflections in this book on the need for surrender to the Lord, regardless of the traditions of the community, spoke to me directly in the midst of my own situation at the moment. There is such a difficult balance at times between going along with the popular opinion of other believers and following the voice of the Lord.
We have one copy to share with one of our readers. Just leave a comment below to be entered to win (US/Canada only). We'll announce the winner in our giveaway column on May 30th. This giveaway is closed.
Don't miss a thing: Check out our current giveaways. Subscribe to our feed or video reviews on YouTube. Follow us @5M4B on Twitter or on Facebook.