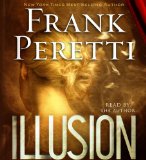 Frank Peretti is known for writing Christian novels that deal with spiritual warfare such as the hugely popular late 80's novel This Present Darkness. That was why I had decided NOT to request the audiobook of his newest book Illusion. That's not really the kind of fiction I choose to read anymore, finding it a bit forced. However, after reading some reviews, some of which were critical of this lack of plot "depth," I decided that it actually sounded like a good clean romantic thriller, and since I'm always up for a good audiobook, I decided to give it a try.
A 19-year-old girl "awakens" in the present time on a fairground where she was in 1970, when she actually was 19. So she's stuck in the future not understanding cell phones or fashions. She thinks that it is 1970, not remembering any of the subsequent years or understanding why everything has changed.
Dane Collins recently lost his wife in a car accident. They were partners in life and also work, experiencing success as the magicians Dane and Mandy. He's bereft and has left practicing magic behind, until his friend takes him to see this new magic act from this 19-year-old who is performing on the street.
His friend thinks it's just his grief, but Dane is struck by the similarities between this young woman and his wife when she was 19. Dane agrees to help her, but he tries to keep his distance.
Over time, they are drawn to each other, but there's that 30+ year age difference. The reader is invited into the romance and the possibilities of second chances. I was of course pulling for Dane and Mandy to realize the truth (while simultaneously wondering what exactly IS the truth) and end up together.
There are definitely supernatural elements involved here, and the young Mandy's magic seems influenced by the dark side, which was a little confusing to me in light of the topics of his previous books. While there are a few mentions of characters going to church or believing in God, Illusion is not published by a Christian publishing house, and reads more like a clean read than Christian fiction.
As in most sci-fi, everything isn't completely explained and that which is explained sometimes left me scratching my head, but it was overall an enjoyable listen.
AUDIOBOOK NOTES:
Illusion is read by the author, which is rarely the most enjoyable/professional listen. Frank Peretti did a good job distinguishing the character's voices, and though it sounds cheesy for me to say, I truly felt his love for the characters come through in the reading, which is always the upside to author-read works. In this case, the tradeoff was worth it.
You can hear Frank Peretti talking about recording the audiobook as well as listen to an excerpt at the Simon & Schuster Audio site.