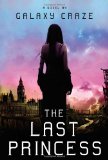 Editor's Note: One of the perks of having a mom who is a book reviewer is being able to dig into her stash. Occasionally our kids get to the books before we do, and then we sometimes actualy never get to them. In this case, we ask them to write up the review.
The Last Princess
takes place in England after a 17 day period of disaster after disaster, and is set in a dystopian near-future. People are hungry and the law is by and large ignored. The royal family still has some food and provisions, and some feel that they have too much. Elizabeth's mother is killed by poisoning and her father by gunfire. A ball is held at the palace and there, the outlaws strike because they feel that it is unjust that the royal family hold balls while the rest of England suffers. They take Elizabeth's older sister and younger brother hostage but she escapes, and joins the outlaws so that she can kill the man who murdered her parents. However, before she can kill the man she so despises, another man in the army befriends her and helps her to escape to Scotland where she still has a few friends. There, she finds a group of rebels who want to fight the outlaws who have taken over everything. She becomes their head and leads them to the palace to stop the execution of her siblings which would allow the man she hates to become king.
The Last Princess
is not a long read, but does have a gripping plot and an interesting idea. It's like a modern day rebellion, with the added ancient threat of the dreaded Tower of London. The book has a lot of emotion poured into it, which I feel, makes it easier to sympathize with the royal family, but at the same time, allows an understanding of the other side. This just makes the book more interesting and more fun to read, as the reader almost, at times, feels a bit torn between the two sides. I thought it was a good book, and would gladly read it again. I'm also waiting for the sequel.
This review was actually written by Elizabeth's son Elliot, age 16. He loves history and reading, so this book was a natural fit for him. Learn more about Elizabeth and her family at her blog Planet Nomad.