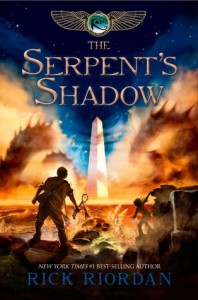 Amanda and I have each enjoyed the audiobook versions of The Red Pyramid and The Throne of Fire. Since this month it was our turn to make a selection from the Scholastic flyers for review, and the 3rd book in the Kane Chronicles had just come out, our selection was from the TAB flyer: The Serpent's Shadow. The turnaround on the review/giveaway is very quick, and this is a BIG book, and Amanda's been dealing with finals, so she hasn't read this 3rd one yet. She now says that she wants to revisit the first two and then be able to truly sink in and enjoy the latest installment, which she's looking forward to doing since Wednesday is her last day of school.
So, instead of focusing on the plot of the 3rd book, I am going to ask Amanda's (13) opinions on the series in general:
How would you sum up the plot of the Kane Chronicles?
Amanda decided that she couldn't really answer this question since it's been "so long" since she's read them, so I guess it's up to me. Basically the fate of the world (against the powers of Egyptian gods) are in the hands of Carter and Sadie Kane, estranged brother and sister. When their mother died, her parents took Sadie to live with them in London and Carter stayed with their dad in the U.S. This brother-sister pair are appealing on so many levels. Sadie is a young teen, and kind of a cool kid/rebel type. Carter is almost out of high school and more studious and straight. Carter takes after (and looks just like) his dad, and Sadie favors her mom. Because their mom was white and their dad is black, people sometimes don't even think they are siblings. This racial element is definitely key to the characters, but is handled in such a great way. When we were talking about these books recently, Amanda's bi-racial friend mentioned this about the characters, so apparently it rings true.
What makes Rick Riordan's books so good?
Rick Riordan makes his characters sound so REAL, and its so easy to relate to them. They're so familiar by the end of each book. His writing is just so funny. All of his characters have a pretty sarcastic look at life, making light of basically anything that happens.
How is this series different from his others featuring Percy Jackson?
This series is interesting because the way of telling the story, and the story itself, is totally different from Percy Jackson. In the Kane Chronicles, the story is told by the two main characters, Carter and Sadie, in the form of a transcribed audio recording. The circumstances they're in are totally different, and I noticed more "adventure" — more danger — straight from the start.
*****

We are happy to a part of Scholastic's Parent Circle. Each month, one of our reviewers will select a book from that month's Scholastic Book Club flyers. This book is available in June's TAB flyer.

We have a copy of The Serpent's Shadow to give away to one of you (U.S. shipping addresses only). Just leave a comment if you'd like to win, and we'll announce the winner on June 13. The giveaway is closed.

We have a TON of giveaways this summer! Enter our current giveaways now. Subscribe to our feed. Follow us @5M4B on Twitter or on Facebook.