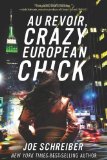 Perry is a high school senior who is typical in many ways—his life is consumed with college application essays, he wants to continue in swim team and play in his band but his father insists he focus on grades, he wants to date but doesn't really get anywhere with girls. For the last year, his family has been hosting a Lithuanian exchange student who is dull and boring and ugly. He's not planning on going to his prom, but then his mother announces that he is, and that he's taking Gobi, the exchange student, as his date.
He expects the night to be a disaster but he has no idea of what's about to happen. Turns out that Gobi isn't the dull teen she's been pretending to be, but an international spy who's out for revenge, and plans on using Perry to help her with her plans. He's got little to do but hang on for the ride and try to stay alive. And a wild ride it is, as he learns things about his own family that he didn't know, witnesses a murder or two, and manages to get shot by Gobi before she tells him, "I had a nice time tonight, Perry."
Each chapter starts with an essay question from a college application, and the following chapter sort of answers this. Ilsa and I both liked this.
Au Revoir, Crazy European Chick
is a wild ride of a book. It's fast-paced and entertaining. It's got a few mature situations and some mature language, so I'd recommend it for older teens. I let Ilsa (my daughter, age 15) read it before I did, and here's what she had to say about it:
In the book Au Revoir, Crazy European Chick
, crazy is an understatement. Hectic, insane and life-threatening are a bit more accurate descriptions. Anyways, Perry's plan is to take the geeky foreign exchange student to prom, then sneak off early to play with his band downtown. Things get a little out of hand, and he ends up assisting in five murders and getting shot (and you thought your life was hard). In the end, he learns how to stand up to his dad and make decisions for himself. It only took five murders and a foreign exchange student/undercover spy to teach him that lesson. It is a fast interesting book, and you will enjoy it if you like reading about life threatening experiences and women who aren't what you thought they were.

Elizabeth and Ilsa are happy to report that life can be interesting without involving murders, stolen cars, and dangerous women masquerading as foreign exchange students. Learn more at Elizabeth's blog Planet Nomad.