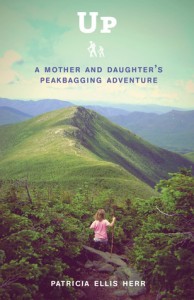 This book completely delighted and surprised me. I expected an interesting look at some mother-daughter hikes. I expected to feel a bit jealous and more than a little inspired, but I didn't expect such a fast-paced read that was moving, and yet never overly sentimental.
Read my full review, and enter to win over at 5 Minutes for Books. . . .
After experiencing the 48 New Hampshire hikes that Trish and 5-year-old daughter Alex took over a year and a half period of time, I was inspired to go back and read my own account of hiking the 3100 foot tall Mount Monadnock in New Hampshire with my two kids. We hiked 2.4 miles straight up, and then of course back down. We pushed 6-year-old Kyle, but after reading Up! A Mother and Daughter's Peakbagging Adventure, I was encouraged that we did the right thing in encouraging him along (and carrying him part way).

Please click over to 5 Minutes for Mom and read my full review (and watch the really inspiring book trailer video). You can enter to win one of TWO copies.
If you'd like to read about my own experience hiking with my young kids 2 years ago, you can read: I (Almost) Climbed Mount Monadnock.