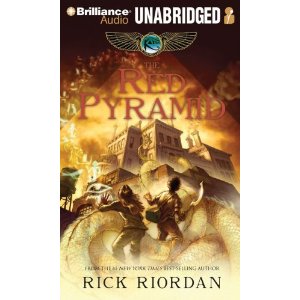 I didn't realize that the whole story of The Red Pyramid was supposed to be a tape made by Carter and his sister, but it made the audiobook that I listened to even more "spot on" as you listen to siblings Carter and Sophie Kane argue their way through telling the story about how their father disappeared and how they try to use their ancient power to help them.
I haven't read the Percy Jackson series, so I can't compare this new Rick Riordan series to that one, but I found this story to be creative and interesting. I absolutely loved the brother/sister angle, as well as the bi-racial element (their dad is black and Carter favors him and their mom is white, and Sophie favors her, so people don't even believe that they are related).
This is a long book that might intimidate some readers, but on audio, you don't notice that. The story moves along, and I can't wait for the next book (which I think I will also choose to listen to instead of read because it fits the story so well). There are two narrators who do a great job telling the story in alternating chapters from Carter and Sophie's points of view.
Parents should note that The Red Pyramid is a pretty intense story, and there is a lot of battling. Nothing inappropriate or over-the-top, but it's definitely action-packed, which may be a bit hard for sensitive readers (though neither me nor 11-year-old Amanda minded a bit).
******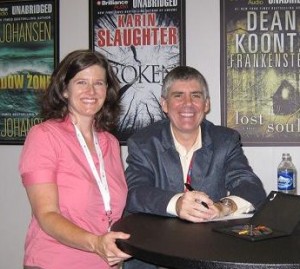 I got this autographed copy when I happened upon a line at the Brilliance Audiobooks booth at the Book Expo. My conversation with the mom of a tween boy and a children's librarian made the wait a great part of the fun. This was definitely one of the items that my daughter was most excited about me bringing home, and I was happy to get in on the beginning of this series that I know will be popular by getting a copy in audiobook form.

Jennifer Donovan loves to read books, and she really loves the opportunity that audiobooks give her to read and at least pretend to get some other tasks done around her house. Household tips are not generally featured at her blog Snapshot, though if she's cleaning, she's usually listening to an audiobook.