Yesterday I spent the morning at the Scholastic headquarters in Soho with other local NY area bloggers and those who were there to attend BlogHer 2010. Just as I expected, it was incredible to learn more about a company that is a staple in children's books. I learned that they are in fact the largest publisher of children's books in the world.
We heard a lot about the Scholastic Book Clubs (follow the link to become a fan on Facebook). I love that there is a very clear purpose behind those monthly order forms:
To encourage children to learn to read and love to read — I was reminded how affordable the books are, with several $1 books in each catalog, with more to come this year.
Partner with teachers — 30% of the purchases go towards teacher credits, which they can use to build a classroom library. I also learned that homeschoolers can register online as educators, and receive credits on the books that your family orders.
Support parents in role as 1st teacher.
I felt a little ashamed, to be honest. Because we receive so many books for review purposes here, I usually say no to those forms, though we do always buy at the Book Fair, both for the kids and for their teacher's wish list. No one was trying to shame us, but the reminder that kids read what they pick out themselves struck home for me. My six-year-old little guy needs all the encouragement he can get to learn to love to read. The memory of sitting in my own classroom and figuring out the books I wanted, then bringing in cash or a check paperclipped to the order form snipped off the circular, and then the big day — the day that I walked into my classroom to find that little pile of books on my desk.
So I'm thinking that every month, or at least every other month, I'm going to give Kyle a few bucks to pick out a book or two that he wants to read. One of the moms said that she buys the books each month and then donates them back to the classroom library after her son reads them. I like that idea as well.
Scholastic is turning 90 on October 22 (just one day after yours truly reaches a milestone birthday as well), and before then, I will be letting you know more about their big literacy campaign, but I have to share the slogan now:



Read Every Day. Lead a Better Life.
After the upbeat and informative presentations (and a nice breakfast), we were invited to visit the swag table and fill a really beautiful red bag, and then go downstairs to the Scholastic store to use a $15 gift certificate on anything we wanted. The store is awesome — bright, cheery, and so fun. It's open to the public.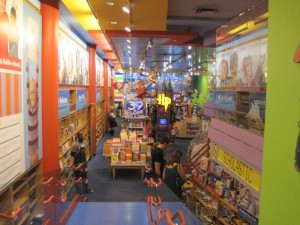 I had heard about the book Smile, a tale of middle school mortification, and since the author was there, that was what I bought for Amanda, my incoming middle school student.
I seriously considered Captain Underpants for Kyle, but instead I got the first book in another series by Dav Pilkey called Ricky Ricotta's Mighty Robot. It looks like a perfect level for Kyle, a very very early short chapter book. And there's no guy running around in his underwear.
Other books that I brought home thanks to Scholastic:
Doodle Journal: My Life in Scribbles which aforementioned tween says is too babyish for her, but you can't go wrong with Klutz, so I'll save it for a gift ("But not for any of my friends," reminds Amanda. "That's a good gift for, like, 8-year-olds.")
Dot And Dash Learn To Share which Kyle read right away and did NOT declare too babyish. How adorable are they?
A Chuggington book The Chugger Championship, at which he did turn up his nose (apparently trains are SO "preschool").
Dark Life by Kat Falls (find out more about the exciting YA book and the author in two videos over at the Scholastic Blog).
A storytime read-along DVD featuring the Teacher from the Black Lagoon and another lagoon story
The Dreamer, a fictional biography of the Nobel prize winning poet Pablo Neruda, written by Pam Munoz Ryan.
In one of the presentations, they highlighted a very cool book concept by Patrick Carman, which intrigued me, so I can't wait to check out Trackers, a tween book that combines online video that you watch while reading. You read, then you watch to see the next plot element, then you read some more to further the plot on your own.
And we can't talk about Scholastic without looking to the book that we are all waiting for, featured prominently in their window display:

Everyone knows Scholastic. Just say the name and immediately that simple red book logo pops into your mind (right?). You can see and feel that thin newspapery book order form that you brought home from school in your own backpack when you were a child and which your own child probably now brings home to you. You remember browsing books set out on portable shelves and long tables in the cold cafeteria or stuffy gym during the annual Scholastic Book Sale.