Until I started using the BusyBodyBook 3 years ago, I couldn't get into using a planner. Even in this digital age, I don't use my ipod touch or google calendar or anything like that. I like to write my appointments and goals down on paper and look at them. This helps me see at a glance what my week looks like.
The BusyBodyBook is unique in that it has 5 columns. Each two-page spread has a page on the left that is half blank and half with a checklist. I love using this to jot random thoughts and goals and ideas for the week. I'm a big notetaker/listmaker/dreamer, so I love all this white space, and almost every week that left hand page is jotted with ideas, lists, and notes. Before this, those would be made in various other notepads and invariably lost.
Now I take it up to bed with me as I plan which books I'm going to read and/or write reviews for for the following week, or what meals I'm going to make, or what calls I need to make that week (I'm awful about making calls to set up appointments and such, so writing them down is at least a step).
On the right a full week is shown with 5 columns. I use these for different purposes — to record appointments and weekly plans (the first grid), to keep track of hours I work in my freelance job, meal planning, and more.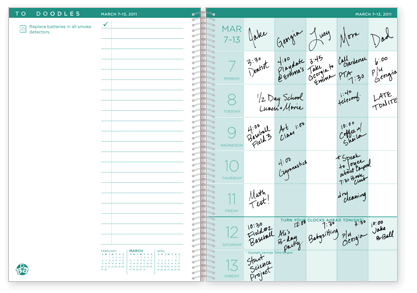 You can also use the columns to organize your life by subject or by child. You'll figure out what best works for you.
This year there are sheets to plan by the month at the front of the planner, with the regular calendar month grid, and yes — some lines for notes at the bottom. I think that this is where I'm going to keep track of my monthly reading plans, as I request books I can plug them into my What's on Your Nightstand drafts!
I just received my new calendar, since I prefer the academic year format which runs from August – August, and I was so excited to get it and start with fresh papers and grids. Since I carry mine everywhere, it's getting worn, even though it has a great thick plastic overlay. It has pockets in the front and back cover, which is where I stash things that I need to hold on to, like invitations and the like, and this stashing is probably responsible for it feeling so well-used. It's a little silly how excited I was to start using my brand new one.
There is also the more traditional January – December calendar.
I have wonderful news. I am hoping to transform one of your lives, just as mine was pulled back into focus when I first got one 3 years ago. I have one planner to give away — either the academic year, or the calendar year. Go look at the designs and leave a comment telling me which style you prefer (U.S. shipping addresses only). I'll select one reader at random and announce it on August 18. The giveaway is closed.
You can buy the BusyBodyBook at their website or at amazon.com, where they have it at a great price.

Jennifer Donovan is not a busy body. She's a rather lazy body, but she loves her BusyBodyBook planner. She blogs at Snapshot.