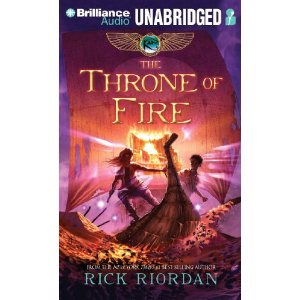 Rick Riordan is incredible. He's made it a goal to reach out to kids (specifically kids who might not ordinarily choose to dig into a big thick book). And I think it's pretty clear that he's succeeded, writing two series concurrently (The Lost Hero and The Kane Chronicles) after completing a wildly successful one (Percy Jackson).
I reviewed the first book in the Kane Chronicles series, The Red Pyramid, last year. I was amazed by the story, so I was happy to revisit Sadie and Carter Kane via audiobook again with The Throne of Fire.
I'll be honest — I got a little bogged down in the plot, so I couldn't even recap it for you. Siblings Carter and Sadie Kane are trying to foil the gods of ancient Egypt who were released at the end of the first book before they wreak havoc on our world. They are also still looking for their parents. Some characters from the first book return, and we meet some new ones — namely Jaz and Walt, other human kids who are in training with Sadie and Carter to explore their powers.
But whether or not I could recall the plot exactly is beside the point. I loved the growth of the characters and the general level of excitement and suspense that was sustained throughout this whole book.
This book is very intense. I'm sure that some younger readers who loved Percy Jackson are reading these, but I definitely think that these books are more suitable for older kids — at least 10 — and better for 12 and up. The reading level is fine, but it is quite intense. There's also some romance (nothing serious — I'm not even sure if there's kissing), but Sadie is 13 in the book and Carter is older, so it's natural for them to talk and think about the opposite sex.
I love books that are just right for those readers in between genres — middle schoolers. Some middle grade fiction aimed at 8 – 12 seems too babyish, but most YA fodder contains mature themes. A book (or audio) like The Throne of Fire provides a more advanced level of action and plot development to keep these kids reading.
AUDIO NOTES:
Like the first book, this book is supposed to be an audiotape left behind, which makes it an even better listening experience. Carter and Sadie trade off telling the story, and they each have their own readers: Katherine Kellgren and Kevin R. Free. The voices of the gods are incredible, and in many cases quite scary, which makes this story that I already found quite intense even more so.
The Red Pyramid was one of 3 finalists (inclusive of all genres) for the Audies Audiobook of the Year. Though I haven't read the book, I can say fairly confidently that the audio is the best way to experience this. I love that Brilliance sells an MP3 CD that easily downloads to my ipod. It would be great to load up your child's ipod with books 1 and 2 (whether they've read the book already or not). They are long, so you definitely get your money's worth! It would also be a great selection for a family listen.
I've said it before, and I'll say it again — audiobooks make great gifts, especially excellent audio versions, such as this one.
You can listen to a sample at the Brilliance Audio page.
Just as reviewer Jennifer Donovan couldn't imagine her life without books, she now couldn't imagine her life without audiobooks either. She blogs at Snapshot when she's not reading and reviewing.