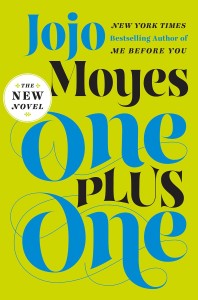 I have enjoyed every book I've read by JoJo Moyes since I "discovered" her a few years ago when The Last Letter From Your Lover came out, both her new releases and backlist titles.
She seems to write two types of stories — multi-generational stories that are set in the past and then cross-over into the present that read like slightly literary historical/contemporary fiction (like her other recent novel The Girl You Left Behind) and straight women's fiction stories (like the popular Me Before You). One Plus One is in this latter camp.
It's the story of single mom Jess. She struggles financially and has put her personal life on hold so she can care for her kids. Her son Nicky is struggling in high school. He doesn't fit in anywhere. He wears black skinny jeans and a little mascara, but he doesn't jive with the theater kids or with the jocks. Tanzie is 11, and she knows what she likes: math and sparkles, but that doesn't win her many friends either. When she has the chance to attend a private school due to her extraordinary math talent, Jess is crushed, because even with a 90% scholarship, their tight budget doesn't have any wiggle room. When they find out about a Math Olympiad that Tanzie could surely win, the prize money from which would cover the first year's uniforms and fees, Jess is determined to give it a go.
Getting to Scotland is no easy feat and her efforts are thwarted time and again. When she's stranded on the side of the road, one of her house-cleaning clients Ed — who is having his own personal and business problems — comes to her aid. Driving his client who helped him get home after he passed out in a bar, her 2 kids, and a very large dog named Norman is not the sort of thing that Ed usually does. Has he changed or has he lost his mind?
The result is a quirkily funny and surprisingly raw and touching account of a family that goes beyond the standard 2.3 kids and a station wagon.
I loved it.