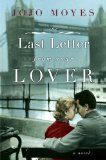 The Last Letter from Your Lover by Jojo Moyes is a novel that I was able to savor while I was on vacation. When I had a spare moment, I picked it up, and whether I had time to read 5 pages or 40, I was so excited to see what was going to happen next.
Jennifer Stirling wakes up in a London hospital in 1968. She doesn't know a lot. She's been in an accident, as evidenced by the jagged scar on her arm. Friends and family, a husband, have visited her, but she doesn't know them. Even when she leaves the hospital, her own home is a mystery to her. She doesn't feel any tie to this man that she's wedded to – wouldn't she feel something? In addition, the way people respond to her makes her wonder what kind of person she was, apparently not a very nice one.
When Jennifer finds a love letter seemingly addressed to her, signed only with "B," it begins to make sense to her. Perhaps she wasn't in love with her husband after all, but in love with someone else. But who is this man?
The way this story unravels is so unique, since the reader learns about Jennifer's past just as she does. Though I'm usually put off by storylines featuring adultery, the way this was handled with Jennifer almost being two different people, not remembering her former life, somehow lightened what might have normally soured the story for me.
The story of the year of 1968 ends and the story fast-forwards 30 years, introducing new characters. Again adultery is prominent, with Ellie being involved with a married man, wanting more from him and wondering why she's let herself get in this predicament. When she stumbles across an old love letter in some papers at the Daily Mail, she becomes interested in the story, and wants to track the lovers down for a story. She also has a personal angle. She knows that Jennifer was a married woman, and wants to know how it turned out for her, hoping it might help her figure out what to do in her own life.
I was loving this novel as the first part of the plot was uncovered, but the addition of the secondary time frame and characters, which layer so perfectly with the first part, catapults this book even higher and made it even more memorable.
I highly recommend The Last Letter from Your Lover (I'm not going as far as a 5 Star Read, but it's definitely 4+++), especially for those interested in the 1960's, or those who love a good character-driven story, with a bit of dramatic suspense as the story unfolds.
Jennifer Donovan sill has some of the love letters her husband wrote to her, but has gotten rid of the others that came before him. She blogs at Snapshot.