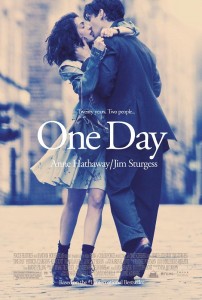 First, let me say that the movie theater owners here in NW Houston did not make it easy for me to see this movie! The movie opened this past Friday. A friend and I were making plans to get together when the kids were in school, and I suggested we see an early movie. This was Tuesday, not even a week after the movie was out, and it was not on at all at my 12-screen multiplex (I do think that some screens might be out of commission due to a recent plumbing incident). What is on? A bunch of rated R movies targeting young men it seems to me (Conan, Ozzy Osborne, Fright Night, 30 Minutes or Less, Final Destination 15 — ugh!). Why not show some movies during the day while said young men are supposed to be in school (or at work!) that would appeal to us ladies of leisure??
But I digress. I'll step down off my soapbox and get on to the movie review. I did decide to head out this morning (at the theater a bit further away) to see it. I figured that if I didn't move quickly, all the screens would be full of sequels and slasher-movies. And I wanted to see it. I figured the book would make for a good screen adaptation, especially since the author David Nicholls was also the screenwriter.
When I saw that the book One Day (linked to my review) was one of Erika Olson's all-time faves and that she still enjoyed the movie, it confirmed my desire to check it out (**see note below).
The movie theater was pretty full for an 11am showing. It was mostly women, but there were a few men. I think that there was a mix of people who had read the book and those who hadn't, judging from the murmurings that I heard, and the surprise at various twists and turns in the movie.
Just like in my book review, I don't want to give too much away about the movie, but I enjoyed it. I even firmly broke my 6-month rule (where I usually make sure at least 6 months have lapsed between reading the book and seeing the movie), and it still held up. It is a very true adaptation. The cast does a great job too. I still think that the book is a fuller telling of the story (obviously!!), but I'm giving my recommendation to the movie as well. I'd recommend reading the book, but if you don't think you will, go ahead and catch it in theaters! And if you liked the book, I'm not really going out on a limb to say that the movie will be enjoyable as well.

You can still win a One Day gift pack set. Just leave a comment on the post featuring my interview with author/screenwriter David Nicholls.
**Who is Erika Olson? and why should you care??
We've featured Redblog's Erika Olson** here with her very Dawn-like take on book to screen adaptations (Pt 1 and Pt 2), and then she featured my thoughts on children's/YA books and Dawn's thoughts on adult novel adaptations over at redblog. Through all that, I came to respect her POV as similar to mine.



Erika Olson is also the author of her very own book now, that my husband and my father both read and enjoyed. If you are curious about the stock market, specifically the Chicago Board of Trade, check out Zero-Sum Game: The Rise of the World's Largest Derivatives Exchange.
Jennifer Donovan loves a good story, whether she gets lost in the pages or in a dark movie theater. She enjoys sharing her love of these things here at 5 Minutes for Books and at her Snapshot blog.