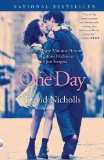 One Day is a book by David Nicholls that I had seen around the book blogging circuit when it was out in hardcover last summer. I was always a little curious about it, but I really didn't know much about it.
When I was invited to participate in a conference call with author and screenwriter David Nicholls (linked to my review, with giveaway), I was glad to get to read the book, even though I hadn't known that there was a movie coming out.
I am so glad that I didn't know anything about the story. I advise you to read this book (or see the movie if you prefer), but don't find out more than you need to about the story. I was so happy to let it unfold page by page.
The book pops in to one day in the life of two friends, Emma and Dexter, over 20 years starting right after college. They are friends, and almost more than that several times, but things keep getting in their way. Through letters and little peeks into their lives on the same day of each year, we see these two characters grow up. They both make mistakes, but they never forget each other, and each of them seems to measure themselves by what the other would think of a particular choice, even when they are separated.
Having been through my 20's and 30's, I completely related to those stages of life, even though Emma and Dexter's lives are quite different from mine.
The characters are real and lovable in their imperfections, which is one reason I think I enjoyed the book so much. The British setting provided an interesting backdrop and also a bit of a challenge to adjust to the different dialogue and terms. However, the humor, experiences, and heart transfer no matter how old you are or what continent you live on.
Be sure to read my interview with the author David Nicholls, and leave a comment over there to enter to win a special gift package, including a copy of the book.

Jennifer Donovan lives in Texas with her family of booklovers. She blogs at Snapshot.