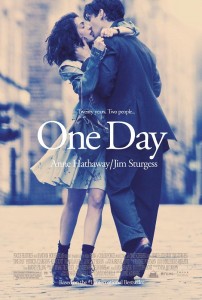 I had the opportunity to participate in a conference call interview with David Nicholls. It was fascinating. He's a celebrated author (most recently of One Day, now out in paperback and soon to be released as a feature film). He recently adapted Great Expectations for a film that will be out in 2012, and a TV mini-series of Tess of the D'Ubervilles.
He's a fan of the classics, he writes incredibly relevant contemporary fiction (check out my review of the book One Day), and he loves movies too. Since he not only wrote the novel but the screenplay as well, I couldn't wait to ask him about the types of issues we grapple with in this Books on Screen column.

I asked David Nicholls about the difference between experiencing a book and a movie. I love reading a book page by page, and I like the fact that I can control what I know about the book. I rarely read reviews for books I'm about to read, for fear of spoilers, and though I absolutely enjoy a good movie, I hate that it's impossible to go in spoiler-free because of the way movies have to be marketed. I also think that movie-watchers are less sensitive to protecting the beauty of a story and are more likely to give something away.
I think that he agreed with me — about the beauty of both:
Well, I love reading and I think some of the most profound and enjoyable experiences I ever had have been that very personal, very private experience of sitting by yourself and really immersing yourself in a book.

And I love film, too, but it's much more of a kind of–well, you know, I don't want to compare the two.
But what was really interesting to hear was how he — as both a movie-lover and the screenwriter — viewed the audience at a screening for the One Day movie (out in theaters August 19):
"My main experience watching the film with an audience was primarily a kind of relief, but also a pleasure in that sense of involvement, in that sense of the gripping of their armrests and the laughter and the sighs. And that, I think, was really thrilling for me and a great relief."
And I think he hit the nail on the head. Watching a movie is sort of a group experience, which is perhaps why we are so tempted to share what we see in the movies. I told him that because of the way One Day unfolded, I was really really glad to have read the novel first. I had an ignorance of the story that I don't think you can have in seeing the movie previews.

David Nicholls' response to that again underscores his love of the story, whether on screen or in the pages:
I hope that the movie is surprising and not predictable. I think that, again, was one of our intentions was to try and avoid, to a degree, the clichés of romance on screen. And of course, there is some satisfaction in the familiarity of those emotions and the kind of devices, the big kiss, the running for the kiss, and all of that. There's a kind of glee and a pleasure in that as well.
I think, for me, the biggest difference is that reading can be episodic. A novel can ramble. A novel can go down all kinds of blind alleys. And a movie has to always, always, always be engaging and gripping you. And I think with a movie, I miss some of that detail. I miss that ability to tell a joke just because it's funny, not because it moves the story on. And that is the biggest difference. A movie has to keep moving forward. And a novel, you can read three pages or read 20 pages and it's still a great pleasure.
I look forward to seeing One Day and might post a review here when I do. If you've already read the book, you should watch this featurette. If you are going to see it, and don't really mind typical preview spoilers, then watch it. After reading the novel (just last month) and watching this featurette, I've even more excited to see it:
Have you read the book? Have you looked forward to seeing the movie?

I have a fun giveaway for one of you (U.S. addresses only):
The winner will be announced on August 31. Please leave a comment if you'd like to win. The giveaway is closed.
Jennifer Donovan loves a good story, whether she gets lost in the pages or in a dark movie theater. She enjoys sharing her love of these things here at 5 Minutes for Books and at her Snapshot blog.
Check out our current giveaways. Subscribe to our feed or video reviews on YouTube. Follow us @5M4B on Twitter or on Facebook.