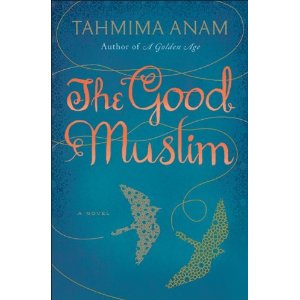 When I read accounts of war, I do think about its devastating effect on people; lives lost and grieving families forever changed. But what I loved about The Good Muslim: A Novel
was that it looked at how the experience of war changes forever even those who emerge relatively unscathed.
The book opens with Maya preparing to return to the home she had fled 9 years previously. She has been working as a doctor in a small traditional village, delivering babies and trying to educate the community. They turn against her after a woman delivers a Downs Syndrome child, and her husband assumes his wife has had an affair with a Chinese man. The wife is beaten to the point of requiring 3 months of hospitalization, and Maya, after receiving some very definite threats, decides to return home. Her arrival coincides with the funeral of her sister-in-law.
Maya and her brother fought in Bangladesh's brutal war of independence from Pakistan, both strong believers in their revolutionary cause and both returning with their idealism shattered. Maya became a doctor; her brother Sohail is unable to make peace with certain war events. He fall sin love with a young woman he rescues from sexual servitude in an army barracks. When she, unable to bear her own burdens, flees, Sohail flounders. His teenage crush from across the street, a rigidly devout Muslim, decides to marry him. Sohail moves further and further into a very extreme form of Islam, one that forbids books and even toothbrushes.
Maya's return home is painful in many ways as she struggles with her memories and the lack of interest from her once-close brother. She is drawn to Zaid, her 5-year-old nephew, now cast adrift by the loss of his mother, but Sohail doesn't allow her to truly mother him as she would like and he runs wild, a thieving and lying little charmer. When Zaid is sent to a madressa, where he is abused, Maya has to act to save him, but her actions will have ramifications far beyond what she imagines.
The Good Muslim is beautifully written, with layers and nuances that develop the characters. Although a typical American reader will spend most of the book very angry at Sohail and his cold, detached and even cruel religion, by the end the reader comes to understand at least in part what has motivated him. The story moves back and forth between the time immediately after the war and the "current" time of the early 80s.
It deals with a part of history that I know very little about. I knew the basics, of course; Bangladesh started as a part of Pakistan although 1000 miles of India separated the two halves, and in the 70s they fought to become their own country. But I knew nothing about the following Dictator and martial law, and almost nothing about the culture.
Although The Good Muslim
is part of a trilogy, I didn't even know this until I read the amazon page (after I'd finished the book), so it obviously stands on its own. I loved this book, and I was excited to find out there's more. I can't wait to read the first book, and I can't wait till the 3rd book comes out. One reviewer said the first book was even better. Really? I seriously can't wait.
The Good Muslim
offers a thoughtful look at war and revolution and religion and Islamic fundamentalism in the lives of a few specific people, characters you'll come to love. I highly recommend this book.
Elizabeth enjoys learning more about unfamiliar (to her) places around the world, but what she really loves are well-written novels. Learn more of her likes and dislikes at her blog Planet Nomad.