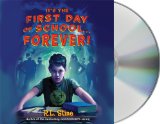 The movie Groundhog Day and Wendy Mass' book 11 Birthdays have each tackled the topic of one day happening over and over, so It's the First Day of School…Forever! by R.L. Stine does not start with a wholly original topic, but he does put a unique spin on the idea, as 6th-grader Artie not only faces the first day of school over and over, but the first day of school as the new kid.
He's plagued by all the things that concern kids across the nation on the first day of school: what to wear, who to eat with at lunch, which desk to sit in, how to navigate the school, how to avoid getting into trouble. Unfortunately, even if he's trying to avoid it, trouble is coming for him. He gets off on a bad foot with the principal when his dog follows him to school and for breaking the dress code by wearing a hat.
Artie is pretty lovable. You have to root for this kid who is trying to do everything right, but ends up doing everything wrong, even when he's lived through it once or twice!
The bulk of the book is taken up with the telling of the first first day, but I still wondered how he would keep it fresh as the same events repeated themselves. Well, he did. Artie's observations and strategies on the subsequent days add life and humor to the story, and of course, there are the zombies.
Zombies? That's right, this is R.L. Stine after all. I was never a Goosebumps reader, so this was my first exposure to him, and I was thinking that this was a pretty normal school story for someone who was supposed to be the master of horror for little ones, until the zombies and giant scorpions appeared. In truth, the zombies aren't really all that terrifying or gross. Maybe it's because it seems less real due to the repetition of the story.
I wondered how the story was going to resolve, and I was impressed with Stine's creative explanation that is likely to sit well with most kids in this age group. I'm glad that I was able to check out this book, read in a simple straight-forward way by Matthew Brown. If Kyle wanted to read more of R.L. Stine's books, I don't think I'd stop him.
We have an audiobook copy of It's the First Day of School…Forever! to give away to one of you (U.S. shipping addresses only). Leave a comment here if you'd like to win, and we'll announce the winner on August 24. The Giveaway is Closed.
The winners of our recent giveaway for the novel This Beautiful Life are # 1 Liz, #5 Bin, and #14 Linda Kish.
Check out our current giveaways. Subscribe to our feed. Follow us @5M4B on Twitter or on Facebook.

Jennifer Donovan read her fair share of horror as a teen, so she's not going to turn her nose up if Kyle wants to explore the genre. She blogs about other ways she encourages her kids to read at Snapshot.