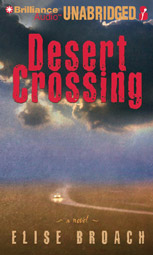 Jamie couldn't stop in time. There was no way to miss the coyote running across the road. It was a coyote wasn't it? It was Lucy's idea to stop and make sure. What they found on the side of the road put an unexpected kink in their road trip.
Traveling to Phoenix to visit her Father for spring break, 14 year old Lucy, her older brother Jamie, and his best friend Kit pull over on the side of the road to inspect the animal that they hit. As they approach they realize it wasn't a coyote at all but a girl not much older than themselves. A dead girl.
So starts Elise Broach's book Desert Crossing. What ensues after the discovery of the girl is a web of mystery, suspense, and romance. Lucy will not stop until she reveals who the girl was and what she was doing in the middle of the desert on such a stormy night. Jamie is too wrapped up in a forbidden romance to worry about what his sister is doing and Kit becomes Lucy's sidekick and kissing partner.
The story is a murder mystery and therefore kept my attention. However, the relationships that formed between the characters were beyond belief and hard to accept. Lucy goes from hating Kit to kissing him without any development. Still, for the reader who enjoys good detective work this story is entertaining.

Audio Notes:
The voice of Lucy, read by Amy Rubinate, rang true as a 14 year old. However, as the plot thickened and romantic situations arose it was hard to picture the innocent sounding voice getting involved romantically as she sounded quite young. The situation seemed too mature for the character.
You can listen to an audio sample at the Brilliance Audio site.
Content Notes:
Although there are sexually mature relationships in the story there are no explicit descriptions, which makes this story appropriate for readers age 13 and up. The mystery and the underlying relationships will definitely draw and hold the attention of the average teenage girl but the voice of Lucy and the lack of action will deter boys.
Guest Reviewer Betsy is a Youth Services Librarian at her hometown library. She is due to start a new chapter in her life this September with her fiancé Adam, a comic book fanatic, at their book themed wedding. She does most of her reading (listening) while walking her two dogs in the morning, her favorite time of the day. Betsy enjoys apocalyptic fiction, historical fiction, and everything in between.