Adolescence brings children to the cusp of adulthood, all of its glories within sight, and it's not uncommon for behavior to follow suit. Yet, the adolescent brain is just not yet fully developed, resulting in a spotty use of rational decision making. Place this life stage within an environment of affluent privilege, and the setting is ripe for an eventful story. Add the component of technology and its immediate reach to the masses, and the novel This Beautiful Life is born.
Helen Schulman's new novel depicts a family life that is unknowingly as delicate as the image of a stack of cards on the cover. Each of the primary characters from the family takes a turn as the central focus of individual chapters. Schulman demonstrates great skill in creating distinct third-person narrators for the alternating chapters. When focused on the mom of the family, Liz, her straining disconnect is prominent. She's unhappy– she thinks, but then she wonders if perhaps she could just be wrong– maybe she's not thinking positively enough, for in this beautiful life, how could she not be? For Richard, the father, the voice is quite succinct and to the point, as Richard makes up his mind and gets things done.
Jake, the fifteen year old son, however, is perhaps the best rendered voice in my opinion. His teenaged uncertainty, his adolescent over-thinking that immediately brings embarrassment and causes him to turn inward even more– that makes his character feel the most realistic.
After partying with a group of peers one night, Jake receives a sexually explicit video from a thirteen year old girl whose desperation in wanting to be viewed as older and in control is painful to witness. In one central fateful click, Jake forwards this video to his best friend, in shock. His reaction is genuine confusion mixed with simultaneous intrigue and shame, and he admits that he simply did not think before sending it to his best friend, the only person he thought he could share it with.
This one seemingly isolated event tears at each family member as the after-effects are more widespread than anyone could have imagined. Technology and adolescence make for strange and potentially disastrous bedfellows.
Jake's character comes to life on the pages as a sensitive and thoughtful teenager, though most of his inner thoughts are expressed only to the reader, and not to his peers or parents. As is typical of many teenagers, he's uncertain that anyone can truly understand him, and in such a volatile situation, he feels desperately alone. In the aftermath of the video going completely viral, many responses come from his peers that range from celebration and emulation to outright disdain toward him, revealing even more about adolescent perspectives.
Schulman's writing is tight, yet very descriptive, and considering the sexual nature of the central plot, it should be noted that several passages contain explicit material that are distressing, to say the least. But while I may shy away from some fiction that makes me uncomfortable like the horror genre, I personally viewed this type of story differently, seeing as its ideas are based in the realities of our contemporary world.
If you're interested in a well written take on family dynamics and personal reactions in the face of adolescent behavior and poor decision making, Helen Schulman's This Beautiful Life is a quick and intense read.
We have three copies to share with readers! Please leave a comment here to be entered to win, open to U.S. and Canada addresses. We'll announce the winners on August 10.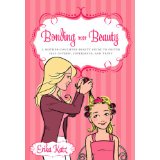 Jennifer has reposted her Kirkus blog review of Bonding over Beauty at 5 Minutes for Mom, so be sure to click over there for a chance to win a copy if you have a young tween daughter (or want to get ready to have one!).
Congratulations to our recent winners:
Keep up with us this summer: Check out our current giveaways. Subscribe to our feed or video reviews on YouTube. Follow us @5M4B on Twitter or on Facebook.
Dawn hopes her own experiences parenting a teenager in only two years are much, much less dramatic. Her family life is chronicled on her blog, my thoughts exactly.