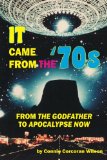 I never thought about how many great movies were made in the 70s until I read Connie Corcoran Wilson's new book It Came From the '70s. Because I was too young to go to many movies during that decade, I saw most of these movies on DVD, or in an art-house cinema that was replaying them, so I thought more of the movie itself than the decade that had produced it. But when you stop and think about it, you'll agree with Wilson—the decade that produced The Godfather, Apocalypse Now, Star Wars, One Flew Over the Cuckoo's Nest, and many many more could indeed be termed a golden age of cinema.
Wilson was a movie reviewer for the Quad City Times in Davenport, Iowa, during the 70s and 80s. She says, "Movies were my world, my escape, my first and best love." She grew up devoting every weekend and many weeknights to seeing everything that played in their town, so she was well-prepared for her career as a film critic. She saved all her old reviews and has republished them in a single volume, It Came From the '70s
, in which she presents only some of the many films that decade produced.
The reviews are presented with her rating (from one to four stars) as well as movie trivia, cast and crew lists, and occasionally Connie's Comments. Also included are lots of stills from the various films, and some Best/Worst lists.
I thought I'd have seen most of the films mentioned, but I have to admit that my Netflix queue has grown by leaps and bounds after reading this book. I've never seen The French Connection, but after learning that the car chase scenes were filmed from the back seat as stuntman Bill Hickman drove at high speeds though actual traffic, with no prior permission, this movie is now high on my must-see list. Her review of the original Rocky reminded me of the greatness of the original film, and how my children haven't seen it. And so much more!
It Came From the '70s
is a great slice of film history that will appeal to amateur and film buff alike.
Connie is giving away It Came from the '70s luggage tags to TEN of my readers. In addition, she will send the winners a short story "sneak preview" of her upcoming short story collection, Hellfire & Damnation II.
Additionally, if you purchase a copy of It Came from the '70s and post a review for it on BarnesandNoble.com and/or Amazon.com, Connie will send you her new novel The Color of Evil–a thriller about a young boy with paranormal abilities. You can even suggest plot directions to Connie by e-mail for this first-in-a-series novel and, if you wish, Connie will use your name as a character in the novel. Both "The Bureau" (a short story) and The Color of Evil will be sent to you by e-mail, free of charge, as a Microsoft Word document to read on your computer. After you have reviewed It Came from the '70s on BarnesandNoble.com and/or Amazon.com, please send Connie a link at [email protected], with Book Tour Review in the subject line, to claim your free copy of The Color of Evil."
This giveaway is open until July 27. Leave a comment if you'd like to win.This giveaway is closed.
Congratulations to our latest winners:
Keep up with us this summer: Check out our current giveaways. Subscribe to our feed or video reviews on YouTube. Follow us @5M4B on Twitter or on Facebook.
Elizabeth loves to watch movies with her family in the evenings. Learn more about her fascinating life at her blog Planet Nomad.